Third-Party Candidates and Kanye | Down Ballot Races & 3rd Parties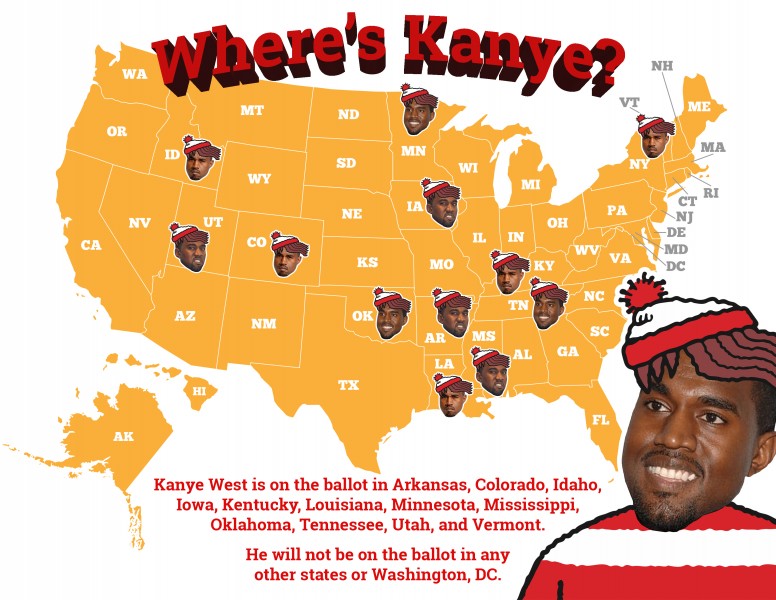 Third-Party Candidates are in Your Race? Here is what to do... 
With a lot of talk about third-party candidates lately, you may be wondering if they can really affect a political race. Well, whether it's bringing specific issues to the forefront of the race, syphoning off votes from a major party candidate, or even winning the race themselves, third-party candidates can have real impact.  What happens when a third-party candidate runs against you?
Republican operatives in a number of states have been working to get Kanye West on the ballot as a third-party presidential candidate, hoping he could be a spoiler in states where the electoral counts are close between Joe Biden and Donald Trump.
Where is Kanye?  Wondering which states will have Kanye on the ballot? Check out our handy map above.  So far, he is on the ballot in, Arkansas, Colorado, Idaho, Iowa, Kentucky, Louisiana, Minnesota, Mississippi, Oklahoma, Tennessee, Utah, and Vermont, and he will likely be on the ballot in even more states by election day. Kanye won't be on enough state ballots to win, but in a race where votes and turnout in individual cities or counties can make a massive difference, his candidacy can have a lasting impact.
What is the impact of a third-party candidate? As we said on our podcast, having a third-party candidate run in your race makes things harder (not "Yeezier") especially as the clock is ticking towards Election Day. Here are a few things to consider if you're running against a third-party candidate.
You have another competitor for votes: This will likely mean you need to up your voter contact game: more phone bankers, more mail and digital advertising. Ultimately, more voter outreach. This may mean your cost-per-vote will go up, and, as a result, you may also need to boost fundraising.
You need a message contrast for all candidates: Your Tully Message Box now needs to take into account what third-party candidates may be saying about you, what they may be saying about your original opponent, and vice versa.
Staying on message is critical: Don't let third-party candidates distract from your core values and message. Make sure your message doesn't get lost in the new conversation surrounding a new candidate.
Third party runs affect candidates nationally, but also locally where "all of the lights" may not be focused, but the impact can still be great.
Impact during presidential races: As far as a historical perspective goes in presidential races, someone being on the ballot in even just a few states can have a big impact (Ross Perrot in 1992, Ralph Nader in 2000, and Jill Stein in 2016 were all spoilers).
What to do when a third-party candidate runs:
Communications and research will be key. Have a message, have a plan, understand how specific candidates may drain resources or votes. You need to know why some voters defect from you to third-party candidates.  Poll voters and see what demographic is shifting.
How can you bring voters over to your side who may otherwise vote for a third-party candidate?
•    Do a message box (include all candidates)
•    Use it as an opportunity to engage coalitions.
•    Use relational organizing and have folks talk to their friends and family.
•    Don't make assumptions that there won't be an impact
•    Track social media
•    Be aware of your spending
•    Invest in Community engagement
Adjusting Your Campaign Strategy
An interesting example of a successful quasi-third-party win would be Alaska Senator Lisa Murkowski's 2010 U.S. Senate race. After losing the Republican nomination to attorney Joe Miller, Murkowski launched a massive write-in campaign, encouraging her supporters to not vote for Miller and instead write her in. She eventually won that race with a plurality of 39.7% of the votes while Miller lost with 35.6%.
The lesson here: For a third-party candidate to really win, you need to have been a major candidate in the first place.  Murkowski was appointed to the U.S. Senate in 2002 when her father, then elected Governor of Alaska, vacated his Senate seat to assume the governorship. Murkowski herself then won the 2004 Senate race and in 2010, won her write-in race.
In local races, multiple candidates can have a real impact, whether they are a third-party candidate in a general election or marginally viable candidates running in a primary. Don't ignore them, you will need to work harder. Use testimonials from specific communities to target specific groups of voters. Make sure you have a defined strategy. Think about how to engage in contrastive communication and don't just assume your base will vote for you. Be sure to include third-party candidates in your polling and research.
Ask for help from the community to organize around their impact. Demonstrate to your community why that third-party candidate is 1) not an appealing option, and 2), going to have an adverse effect on your own candidacy if they don't turn out on election day.
Make sure you have a sense of how your opposition will use the candidacy to hurt your race so you can respond appropriately. Are they taking votes away from only you, are they taking votes away from only your opponent, or are they taking votes away from both of you?
Understand why it is some of your voters or even your opponent's voters might find that third party candidate appealing and develop messaging to counteract that appeal. A third-party candidacy can make a difference in a race.
In conclusion, third-party candidates in presidential races will be spoilers for the two major party candidates (at least in our current political system). However, in local races they can and do win, so ignore them at your peril. Be sure to
•    Know your strategy around a third-party candidate.
•    Know how your opponents may use it against you.
•    Be proactive which means don't be "Closed on Sunday."
A third-party candidate does not have to be a "Monster" in the end: they can make you "Stronger" or at least you can use lemons to make a "number one with the lemonade."
Categories
Political Campaign