Designing for Authenticity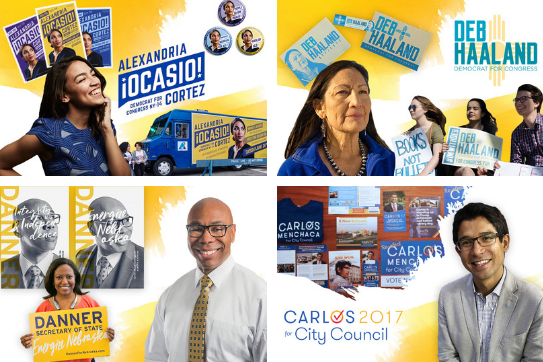 How Four Progressive Minority Candidates Go Bold to Energize Their Campaigns
A decade after Obama's historic rise and win broke convention by galvanizing millions of disaffected voters to believe "Yes, We Can," and raised the bar on political branding to new heights, not many candidates, from high-profile to local, have dared to progress beyond that level of craft. Most candidates prefer the trite-and-true approach where their personality tends to take a backseat to a candidate's level of patriotism in a splashy array of color and stale stars & stripes motifs.
With the public trust in government at continued historic lows, iconic brands like Coca-Cola, Nike and Disney got hip to the success that comes when staying to true to their brand goes a long way in sustaining the powerful connection with their audiences. Four progressive minority candidates use design to create dynamic campaigns that exude a fresh authenticity to set their bids for public office apart.
*these images were recreated by The Campaign Workshop, but all of the creative in the following photos are not our own. 
The Game Changer | Alexandria Ocasio Cortez
The fourth-ranking Democrat in the House of Representatives, powerful 10-term incumbent New York Rep. Joe Crowley, was out-hustled and out-maneuvered by Alexandria Ocasio-Cortez, a scrappy 28-year-old grassroots organizer/educator calling for a revolution. Hailing from working-class Bronx with third-generation Puerto Rican roots, this millennial political hopeful's bid for the House was inspired from grassroots revolutionaries and political activists like Dolores Huerta and Cesar Chavez.
New York-based creative agency Tandem adopted this inspiration, ran with it and fashioned it into a revolutionary-esque aesthetic bent on connecting to voters eager to shake up the establishment. Ocasio-Cortez' natural presence is captured in photographer Jesse Korman's portrait of her gazing upward with hope and optimism sparkling in her eyes as a true picture of positive, progressive change. Her self-assured gaze brims with a cool confidence advanced of her years and informed the decision to craft the logo and typography at a forward-leaning angle. Ocasio-Cortez' thoughtfully nontraditional color palette began with the Brand New Congress, the political action committee that supports Ocasio-Cortez.  Its core hue of purple is also represented in Ocasio-Cortez' hope for bipartisan cooperation in red and blue coming together. Yellow aligns with the theme of positivity and excitement, while blue falls in line with Democratic tradition.
Being female, of Latino heritage and new to elected office — Ocasio-Cortez's campaign's DNA is embedded with her youthful exuberance and unapologetic appeal to multiculturalism from the inclusion of bilingual text in all-caps for legibility-sake to the effective speech bubble that frames Ocasio-Cortez's long last name in an easily-recognizable shorthand reminiscent of Obama. This November, Ocasio-Cortez could be the youngest woman ever elected to the U.S. House of Representatives if she goes toe-to-toe with Republican nominee Anthony Pappas in the general election and wins.
The Native Hopeful | Deb Haaland
After amassing a war chest of funds and defeating her five rivals two-to-one, Deb Haaland is well on her way towards being the first Native American woman elected to Congress in November. The former state Democratic Party chairwoman doesn't shy away from incorporating powerful symbolism native to her heritage and community into her campaign branding.
With New Mexico's ongoing troubles with brain drain, poverty, and income inequality hampering the state's progress and year-after-year poor standing in national rankings, Haaland's campaign stands out like a bright beacon of hope in a vibrant palette of calming turquoise and optimistic yellow. Incorporating the Zia sun symbol is an ode to Haaland's Indian name and voters will recognize it from New Mexico's flag. Representing the circle of life and perfect friendship among united cultures, such potent symbolism is a testament to Haaland's ongoing defiance to the Trump administration while emphasizing her intention to defund the Immigration and Customs Enforcement agency.
A single mother who worked her way through law school, Haaland's story is relatable and not only unites the tribal community behind one voice, she also resonates with a broad swath of voters. Native American disenfranchisement is an ongoing challenge in other states. With an ally in New Mexico's Secretary of State Maggie Toulouse Oliver, Native Americans' right to vote in the state is unhindered. Positioned as welcome change on the horizon of change, Haaland's "candidacy could finally give us a voice on the inside," says Tara Gatewood, a member of the Pueblo of Isleta tribal community and Native America Calling radio host. "For us, that's critical."
The State's Fixer | Spencer Danner
 After nearly two decades, Nebraska's incumbent Secretary of State John Gale retires from office this term and Spencer Danner's robust campaign positions him as the candidate best suited to shake up the status quo. Standing out from the usual sea of red, white, and blue, Danner's campaign bid for Secretary of State infuses the staid, oft-overlooked office with energy and excitement. Coupled with an elegant, attention-grabbing script, the delightful mix of typography in the state's hues of gold and navy communicate what Danner will bring to the office in a beautiful and approachable way.
Featured in three engaging portraits framing Danner at an optimistic angle that captures his charismatic presence in a way that made Obama's Shepard Fairey poster so popular, the overall look is a fresh approach to political branding that is unmatched in typical elections. As Nebraska's state ambassador to the nation and the world, this office serves as the business arm of the state and is involved everything from election oversight to youth civic engagement.
For offices like this one that doesn't garner much attention from the public, Danner's campaign is the perfect opportunity to educate them on the important role Secretary of State is to Nebraska's affairs while showcasing a vigorous candidate who will breathe new life into its mission.
The People's Champion | Carlos Menchaca
As the first Mexican-American elected official in New York and Brooklyn's first openly gay office holder, Carlos Menchaca is a trailblazer. Representing Sunset Park, Red Hook, and several other south Brooklyn neighborhoods, the young and energetic city council member is a tireless advocate for immigrant and worker rights, early and adult education, and a more progressive New York.
Menchaca's infectious passion for his work and natural charisma is reflected in the typeface choices which convey feelings of approachability and friendliness. Grilli Type's Walsheim, a midcentury sans serif with subtle art deco sensibility, helped to balance out the checkmark, a nod to Menchaca getting things done and the only visual carryover from Menchaca's 2013 campaign. Inspired by the area's notable vistas, the sunset-strip motif serves as an ode to Manhattan's panoramic views and beautiful sunsets. Due to his sheer dedication to the revitalization of Brooklyn's waterfront on the local level, the symbolism works to Menchaca's advantage.
After championing the needs of battered Brooklyn neighborhoods in the wake of Hurricane Sandy, the community began to view him as a trusted ally who advocated for their when the rest of the government ignored their needs. That unwavering dedication paid off in dividends with a 20-point margin win in the primary. A success that helped Menchaca snag a second term after securing 80% percent of the vote in the general election.
Political branding is a delicate process prone to missteps and mistakes. In the wrong hands, one bad move or not planning accordingly can spell a campaign's doom and often, the end of a candidate's career. These four minority progressive candidates from local to state-level campaigns chose to stray from the patriotic pack by putting their personal stamp on their campaigns. In choosing not to play it safe, this intention quickly set them apart and introduced them to a new swath of voters still hungry for change and to be heard. These trail-blazing candidates are proving to their constituents that it's not elected office that makes the candidate, but the other way around.