The Complete Guide to Digital Advocacy in Trump's America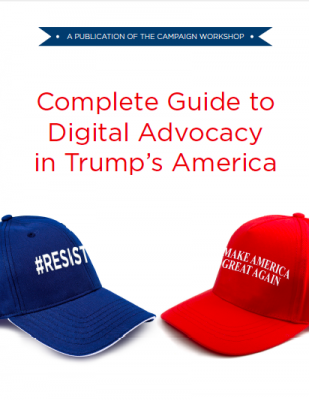 PUTTING THE POWER OF DIGITAL TO WORK TO RESIST TRUMP'S AGENDA
Digital advocacy offers a great opportunity to develop a relationship with a large number of potential action-takers, but escpcially in the Trump era, digital advocacy strategies don't come in a one size fits all program. Check out our eBook to learn what tactics will work best for your digital advocacy campaign! This eBook will help you to:
Blend digital strategy into the overall goals of your advocacy campaign
Outline goals for your campaign and what digital tools will help you achieve them
Create a presence for your organization online
Provide insights into digital advertising and effective, long-term list building
Learn new social media tools and how to use them for your advocacy campaign
Want to download this eBook? Fill out our form and check your inbox!