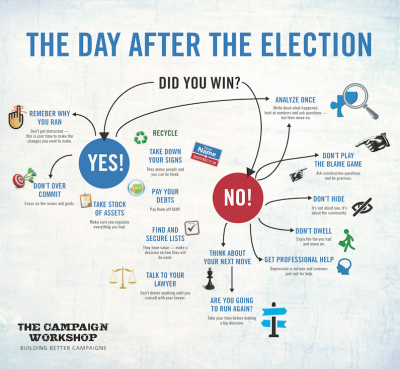 You Won Your Political Campaign, Now What?
Congratulations on winning your political campaign! You won a hard fought political campaign and have gotten the chance to represent your community. Most candidates who run for office don't win. But you did! And that is awesome. Here is some advice on what to do next.
Thank folks. You won, but it wasn't just you who made it possible. You had a lot of help. Voters, volunteers, donors, friends, family and organizations—they all played a part in your political campaign. So thank them in person or with a hand written note. Thank everyone; believe me, they will remember.
Remember why you ran. You wanted to make change in your community, now is your chance. Do it. Think of the issues and problems you want make a difference for and do it. Don't let the mayhem of being an elected officeholder distract you from achieving the goals you set out to accomplish in the first place.
read more »