7 Questions: Chuck Rocha on Latino Outreach & 2020 Sanders Campaign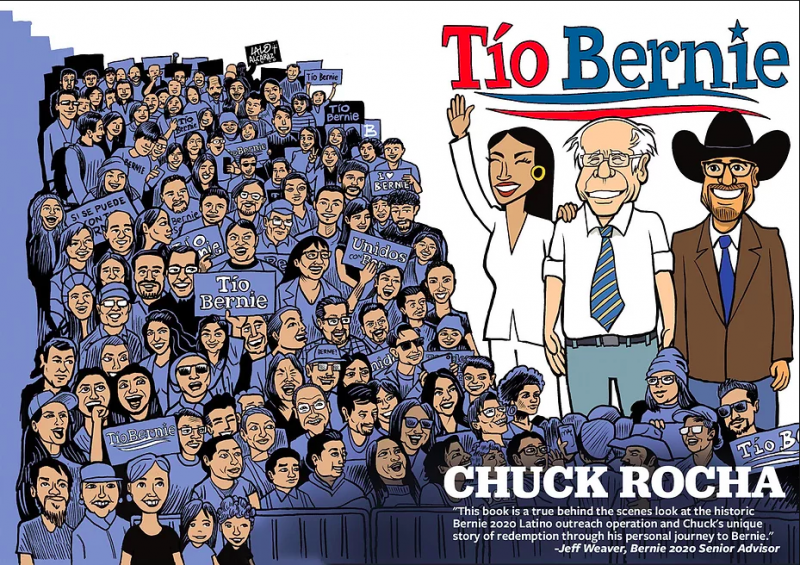 *Credit to Lalo Alcaraz for the book cover
All About Chuck Rocha's New Book, Tío Bernie, and Latino Outreach
Chuck Rocha has been doing ground-breaking work from the start. At 29, he was the first person of color named National Political Director of the United Steelworkers of America (USW). In 2010, Rocha left USW and founded Solidarity Strategies, a Latino-owned and operated political consulting firm. In 2016 and 2020, he worked for Bernie Sanders' presidential campaign, acting as a senior advisor for the 2020 campaign. Rocha is now releasing his first book, Tío Bernie: The Inside Story of How Bernie Sanders Brought Latinos Into the Political Revolution, to chronicle how he built the historic Latino outreach program for the Sanders campaign. We asked Rocha seven questions about his upcoming book and his campaign experience.
1. What inspired you to write and publish Tío Bernie now? 
I wanted to give everyone an inside look at how we built the Bernie 2020 campaign and our highly successful Latino outreach operation. I also wanted to tell the story of my personal journey to this moment, as a poor Latino kid from East Texas who never went to college and has made many mistakes, including having a criminal record and a son who I raised as a single father at 20 years old. I wanted young Black and brown kids to know that you can overcome your mistakes by surrounding yourself with a support network and working hard at what you're passionate about. 
2. What is one of your favorite moments from the Latino outreach program on the 2020 campaign trail? 
My favorite moment from the Latino outreach program on the 2020 campaign trail was winning the Nevada caucus by far! In my book, I wrote about how we were performing behind Vice President Joe Biden with the Latino vote in our first poll and went on to win 73% of Latino support in Nevada. The second-best part was the staff, including the 206 Latinos I had a hand at hiring and how we overwhelmingly succeed with our outreach WITHOUT a dedicated Latino outreach department. 
3. Do you have any tips for other campaign staffers interested in focusing on diversifying their campaign outreach in the same way that you did for the Bernie campaign? 
My biggest tips for campaign staffers in this realm are: 1) hire Latino consultants and staff, 2) start early, 3) expand your target universe to include infrequent and newly registered voters, and 4) run a multi-layered paid communications strategy. 
4. In your upcoming book, you assess drawbacks from your previous campaigns to showcase what made the 2020 campaign even better. What lessons did you learn from the 2016 Sanders campaign that helped inform the choices that you made? Any advice you have for campaign staff who want to learn from their past experiences? 
We learned late that Bernie's message resonated with Latinos, so in 2020 we started with Latinos. Our first paid communications in Iowa and Nevada were bilingual and our field offices were in the community. Google translating your English mail and TV ads into Spanish during the final weeks of your campaign is not Latino outreach.   
5. What is the biggest misconception around Latino voters that you have noticed in the political establishment world? How do we combat this misconception in 2020 and beyond? 
The biggest misconception is that Latinos don't vote. I proved that notion wrong in this campaign and explain how in my book. The key thing to know is that if you ask Latinos to vote and, more importantly, give them something to vote for, they will turn out at the same level as white voters. 
6. How important do you think the Latino vote will be in the 2020 election? 
It is a huge factor. You cannot win Florida, North Carolina, Arizona, Pennsylvania or even Wisconsin without the Latino vote. You need these states to win the presidency. In the 2020 election in particular, Democrats can take back the Senate with North Carolina, Colorado, and Arizona, so the Latino vote is critical for down-ballot races as well. 
 
7. What is the main takeaway you hope readers have as a result of reading this book?
I'm one of the highest-ranking people of color to have this much control of a presidential campaign. I wanted to tell my story to let other young Black and brown kids know that I do not want to be the last. I want to give these young people a glimpse into the so-called room where it happens, but also that if an uneducated factory worker can do it, anyone can do it if given the opportunity.
Bonus: Other than your book, what other books do you recommend to our readers in lead up to the 2020 election?
White Fragility by Robin DiAngelo 
Tío Bernie: The Inside Story of How Bernie Sanders Brought Latinos Into the Political Revolution is now published and accepting orders on Amazon and Barnes and Noble. 
 
Categories
7 Questions