Make Change for Racial Justice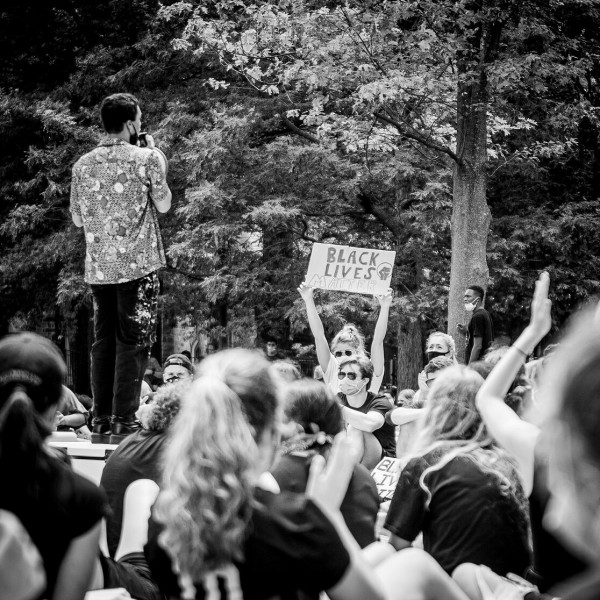 * © Photo by Stacy Beck
What Resources and Direct Actions Can You Take for Racial Justice?
This past week we've seen folks across the country come together, demanding criminal justice and police reform. Here at The Campaign Workshop, we stand with those fighting systemic and institutionalized racism in our country. We are taking a critical look at ourselves to change and grow into better advocates for Black lives. There is a lot of work to be done, but police violence against Black communities must end. 
We need to elect government officials at the federal, state, and local levels in November who will stand up against racism. Below are some resources and direct actions we all can take to fight for racial justice:
 
1. Find the contact information for your federal, state, and local officials.
Ask your senators to support Senator Brian Schatz's amendment to the National Defense Authorization Act to end the 1033 Program, which equips local law enforcement with used military equipment like armored vehicles and bayonets.
Ask your representatives to to support Res. 988, a resolution introduced by Reps. Ayanna Pressley, Ilhan Omar, Karen Bass, and Barbara Lee to condemn racial profiling, police brutality, and the use of excessive force.
Ask your local officials about the legislation in your area addressing police violence and racial justice.
2. Follow social media accounts: Justice for George Floyd, Ahmaud Arbery, and Breonna Taylor is not where it begins or ends. Continue your education by following activism accounts.
3. Black Lives Matter has a comprehensive list of petitions you can sign for racial justice and tips for signing petitions as well.
 
4. Read the 20 Best Books about Anti-Racism and purchase them from your local Black owned book stores.
 
5. Various streaming sites have many movies and documentaries about race and racial justice that can be the perfect choice for the next family movie night. Here is the list.
 
6. Donate to groups that are working to fight for racial justice and against racism. Join us in supporting Color of Change, Center for Policing Equity, and the NAACP Legal Defense Fund.
Categories
Content Marketing