What to Stream to Fuel Your Social Activism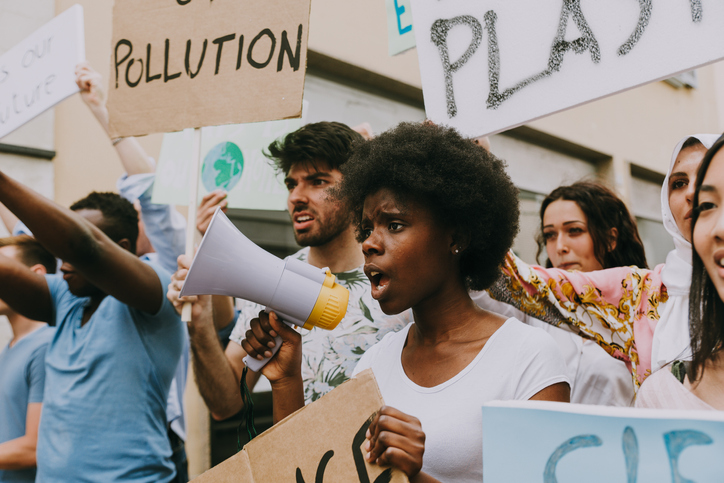 Movies, Shows, and Documentaries to Engage in Social Activism
Amplifying Black voices is always important, and streaming services are helping to do just that. Now, if Netflix users search "George Floyd," they'll be taken to a curated list for their Black Lives Matter Collection, which has over 40 movies, T.V. shows, and documentaries. Amazon Prime's collection is called Black History, Hardship, and Hope, and it's home to documentaries like I Am Not Your Negro and The Central Park Five. HBO Max Go, and Now has a section called Celebrating Black Voices featuring movies like BlacKKKlansman. Hulu's Black Stories recommends shows like black-ish. It's safe to say that now, more than ever, is the perfect time to kick back, open your favorite streaming service, and watch something to educate yourself and fuel your social activism. And for introverts, this is the perfect way to engage yourself in the movement!
When we, as the audience, consume these stories, we become part of a movement that shows the entertainment industry that Black stories are for everyone, not just for a specific subset of people. Whether it's a documentary or a T.V. show, it's important to give writers a platform to share the Black experience and raise awareness for the racism that still lives on today. Furthermore, what we watch can impact our opinions on social issues and help us build empathy for others. In just one sitting, we can all gain a better understanding of mass incarceration, police brutality, and the history of Black communities in America. What you learn from what you stream can then be translated into signing a petition about police brutality or engaging in an uncomfortable conversation with your family about racism. Here are a few shows and movies you can add to your social activism To-Watch list:
Movies
The Hate U Give (HBO): While this movie, and the book it's based off of, is fiction, the story told is reminiscent of reality. We follow Starr Carter's journey with social activism when she witnesses the murder of her childhood best friend at the hands of a police officer. 
Just Mercy (Amazon Prime): In this true story, we learn about lawyer Bryan Stevenson and his journey in founding the Equal Justice Initiative. This movie takes a look at the death penalty and the injustices present on Death Row. Watch this movie to learn more about America's history with the death penalty.
BlacKKKlansman (HBO): This follows the true story of the first Black detective in the Colorado Springs PD. Directed by Spike Lee, this movie does not shy away from political comparisons and emphasizing social activism. The movie does a good job of portraying various types of changemakers, those who believe in radical reform, and those who believing in changing a system from the inside.
Documentaries
The 13th (Netflix): This Academy Award winning documentary, directed by Ava DuVernay, analyzes the current trend of mass incarceration, tracing it all back to the 13th amendment. Watch this if you want to learn more about the U.S. prison boom.
Happy Birthday, Marsha! (Amazon Prime): If you're not ready to commit to an hour long T.V. session, put on this 15-minute documentary to celebrate Marsha P. Johnson, an icon in the LGBTQ+ rights movement. This documentary was made by members of the LGBTQ+ community, so even by watching it, you can honor Marsha's legacy of social activism and supporting queer artists.
Knock Down the House (Netflix): If you're in search for some inspiration in the lead up for the 2020 election, this documentary is for you. This documentary follows Alexandria Ocasio-Cortez and 3 other progressive Democrats on the 2018 campaign trail, which leads to one of the most shocking upsets in political history. Remember, change is possible with social activism!
T.V. Shows
Little Fires Everywhere (Hulu): In this limited series, a Black single mother, Mia, and her daughter, Pearl, move to Shaker Heights, an integrated and affluent community. In Shaker Heights, they meet Elena, a white, prominent member of Shaker Heights whose grandmother helped desegregate Shaker. This show is a great representation of the microaggressions that BIPOC deal with on a daily basis and shows how covert racism occurs everywhere, even in supposedly progressive communities. 
Dear White People (Netflix): This T.V. show focuses on being Black at a prestigious, made up Ivy, which could easily be the representation of any Predominantly White Institution (P.W.I). My favorite thing about this show is that it mixes humor with social activism and makes you laugh and teaches you something in the same breath. When you're in the mood for something more upbeat, but still want to educate yourself, watch this show!
Insecure (HBO): Amplifying Black voices means watching them on T.V., even when they are simply there to exist, not just to educate you. This show is just that. Follow Issa and Molly, two modern-day Black women, navigate their friendship and life in Los Angeles.
This list does not start or end here. Social activism is a constant effort to learn and seek out more information about the inequities in our society. We hope that by watching, they will encourage you into activism for this election cycle and beyond. What are some of your favorite shows to fuel your social activism? Drop us a note:
Categories
Content Marketing