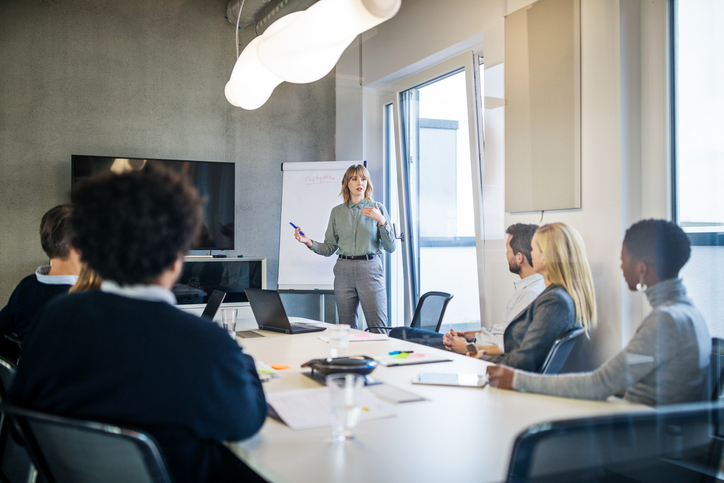 Presentation Tools To Make Your Presentation Engaging
By using presentation tools, you'll never give a bad or boring presentation again. Well, we hope not! The reality is that presentations don't always take priority when you're busy trying to run a campaign, manage a business or non-profit, or build an advocacy network. However, we've all had to sit through a bad presentation—the presenter rambled on, there was no structure, the visuals were unexciting, or there were technical difficulties–and it's the absolute worst. Don't be that person! While investing some extra time in designing a presentation, doesn't mean that it's going to turn out world-class, a presentation tool can at least help you give a visually engaging presentation without any graphic design experience. 
There are a lot of presentation tools out there that can help you create amazing graphic designs and keep your audience engaged. A lot of these tools are free, but often you can get even more features with a subscription! We've compiled a list of some of our very own favorites: 
Canva: Canva allows the user to create presentations, social media graphics, and so much more. This platform allows you to conduct your presentation from the site, share a link, embed it, publish it as a website, or export as a PowerPoint slide. The website also offers extensive pre-made design templates to make your creation process quick and painless. Canva has your back covered for presentations, social media, or any other marketing you might need to do! 
Key Features: Many design formats, Variety of templates, Several presentation options
Adobe Spark: Similar to Canva, Adobe Spark has pre-designed templates you can use for presentations or any number of social media and marketing materials. When you finish a presentation, it is automatically uploaded to its own unique URL. This presentation tool allows you to make each "slide" as large or small as you like based on the focus of the page, making your presentation more dynamic. You can also integrate a photo carousel, a Call-To-Action button, a video, or a photo grid into your presentation. Once you're finished, you can scroll through your presentation smoothly, without clunky presenting mishaps or mistakenly skipped slides. 
Key Features: Many design formats, Variety of templates, Unique URL for each presentation, Ability to customize slide size based on content 
Prezi: A web-based presentation tool (say goodbye to freaking out about whether the projector cords will connect to your laptop), Prezi creates high-impact, engaging slides for every presentation. It's dynamic "zooming" from slide to slide not only keeps the presentation upbeat but can also highlight different concepts or results. Additionally, Flash animation capabilities mean that your graphs can move, and elements can shift and change within an individual slide. Prezi also supports video and audio clips including an automatic start feature when you get to that slide. Most importantly, because the viewers' focus moves around one continuous presentation map, Prezi leads the audience to consider how one slide fits into the whole. As you are creating your Prezi, by design, you will be able to show visually how different ideas, practices, and concepts are related and interconnected in a way that many presentations can't capture.
Key Features: Web-based, 3D-mimicking presentations, Storyline format
Here are some factors you should consider when making your presentation and choosing you're the right presentation tool for you: 
Substance v. Detail: Think about the main points you're making. If you're the presenter, you're probably invested in the content of your presentation, which means you know and want to share all of the details. A presentation tool can help you to distill the main points by offering structured formats that highlight those ideas. 
Design: Again, graphic design is not everyone's specialty, but chances are you will need to make a presentation or some other graphic design piece at one point or another. Check out what features different tools offer before you commit to any particular one! 
Technical Support: Video, animation, and images can speak louder than words. Perhaps more importantly, these aides can break up extended periods of talking and give the presenter a quick breather. But who knows what image sizes to use or how to embed a YouTube video? A presentation tool can help make these actions a LOT easier, and they sometimes offer live technical support, as well.
Structure: Consider how you want your presentation to be structured, so as not to leave yourself to ramble. Some presentation tools will allow you to include notes at the end of each slide to help remind yourself of your main talking points. 
Have you encountered any other major obstacles in making presentations? Let us know! Drop us a line if there are any presentation tools that you're loving and we missed!