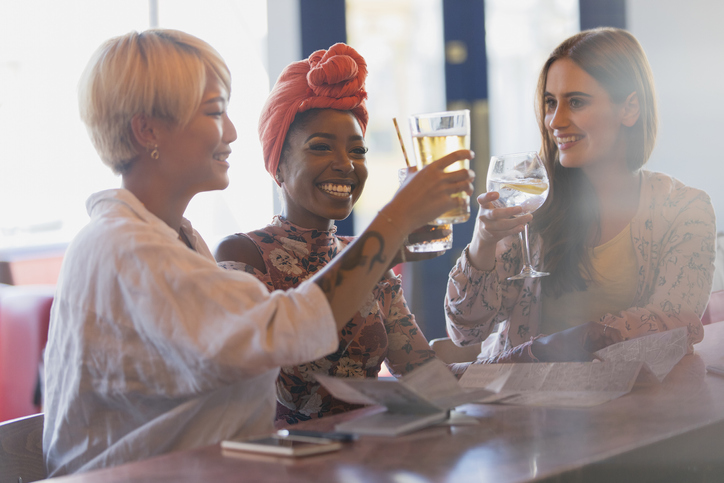 Your Campaign Has Ended, Kick Back with a Self-Care Cocktail
Self-care is a must after a grueling election cycle. Getting through Election Day is a huge accomplishment, but it takes a toll. Late nights, too much pizza, a prolonged, laser-like focus on work—it can leave you feeling drained, foggy and exhausted. Moral of the story, you deserve to kick back with a good book (or a great crossword, if you're a nerd like me) and an even better drink in hand. Cocktail, mocktail or wine, the choice is yours, but the sentiment is the same: treat yourself.
Keep It Simple: Gin and Tonic
You probably spent the last few months (if not year+) running around managing more people and processes than should be humanly possible to get your campaign across the finish line. Let go of all that and find self-care in the simplicity of a three-ingredient cocktail. Some may contend that the gin and tonic is a summer drink. Personally, I find it delightful year round, and if you really want to make it "wintry" you can always add a little rosemary to your concoction. Grab some Leopold's Small Batch Gin or Hendrick's and pair it with a good tonic water (spring for the Fever Tree, you deserve it!) and as much lime as floats your boat. You won't regret it.
Results Got You Bitter? Indulge Your Feelings with a Boulevardier
Election cycles are rough, especially if things didn't go the way you planned and hoped they would. Still, from a self-care perspective, you've gotta feel your feelings, right? Enter the Boulevardier. Bourbon (or rye), red vermouth and Campari combine in this drink to create what Smitten Kitchen describes as a drink that is "less intimidatingly bitter" than a Negroni. And really, shouldn't we all strive to be just a little less intimidatingly bitter? 
Mull It Over with Ina: Mulled Wine
Many moons ago, a friend and I spent some time in Prague around the holidays. The Christmas markets were delightful, but the real treat was mulled wine from street carts. It is warm, spicy and just plain festive. Ina Garten's recipe is easy peasy and will be great for sitting by the fire and mulling over your feelings about the cycle since you can now stay inside and get cozy instead of canvassing in freezing rain!
Can't Take a Vacation Yet? The Consolation Prize Is Just That in Mocktail Form
Yes, this is another Smitten Kitchen recipe, but Deb knows her stuff! Self-care in a post-election setting dictates you get a vacation one way or another. So if it's not in the cards for you to actually escape to a tropical locale, The Consolation Prize is (I think) the next best thing. Who doesn't like coconut, pineapple and mint? Make it sparkle with some optional seltzer! Put a tiny umbrella in it and your self-care journey is complete!
If you're feeling even more invested in post-election self-care, check out this blog and pair the activities with the cocktail of your choice (after you shutdown your campaign).
---
These self-care ideas may save your sanity after a stressful election cycle. Do you have other self-care ideas? Let us know in the comments!