What TV Show Should I Watch to Turnoff the News (for a Little While?)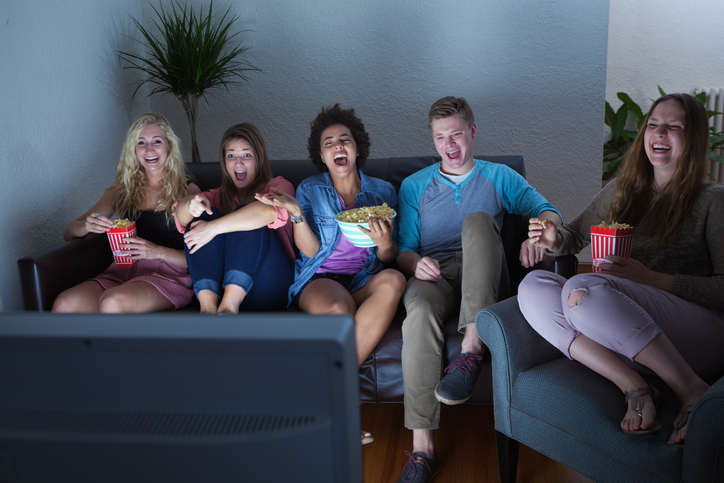 If You're Stressed about Politics or the Holidays, Why Not Try A TV Show?
Do you need to take a break from political content with a new TV show? Maybe you just finished working on a campaign or, like me, you work at a political consulting firm where politics is literally your job all the time. I am from Bethesda, where academic achievements and political discourse are our most hotly contested sports. After 29 years, I don't have the emotional energy to get deeply involved in most political issues or candidates without carving out some time to lie on the floor for a while. If you, like me, need to give your brain a break from time to time, try out a TV show from the list below. None of the shows below are new but I believe that at least one of them deserves your consideration. A quick note: Bob's Burgers is also a must-watch if you're feeling down or anxious, but if you're not already onboard with it I'm not really sure how to help you.
Legitimately Good Shows That You May Be Suspicious Of:
First, I have to start with the obligatory plug for the Great British Bake Off/Baking Show. Once this perennial favorite changed channels in the UK, prompting our beloved Mary Berry and hosts Sue and Mel to move onto less controversial pastures, many of us were skeptical. As a person who has seen every episode of The Mighty Boosh (and did not enjoy it!) I was deeply suspicious of Noel Fielding's gig as one of the new hosts. Despite many misgivings, I finally watched it and I now believe that Noel is critical to the new format as the primary foil to Paul, self-important disapprover of breads. The new format is not the original, but the contestants are just as charmingly British as ever and Noel's wardrobe choices and costumes provide enough visual interest to make it worth at least a shot. I recommend starting with the most recently aired season.
I initially saw the first few episodes of Schitt's Creek on Netflix and felt no desire to continue watching it, but after the hosts of a favorite podcast talked about it, I gave it another shot. Now, I am devoted to this show and will happily talk to you about it for however many hours you have available to chat. The characters who are initially hard to relate to (unless you are very wealthy), slowly morph into a family who is learning to appreciate the things money can't buy. It can take a while to truly appreciate the show. But it's more than worth it and for me, it directly counters the nihilism that seems to build with every news story that appears on my phone. This show provides a roadmap for even the most selfish and judgmental among us to accept and value the people around us. To get a better sense of why people love this show so much, try watching the end of season 2. I appreciate the jokes of the earlier seasons much more now that I am emotionally invested in the characters.  
Legitimately Bad Shows That I Still Love:
Sometimes you really need a TV show that is the visual equivalent of eating a large bag of pepperoni pizza flavored Combos. Everyone has heard of The Real Housewives, but there are many flavors of reality TV. Have you heard of Dr. Pimple Popper? Then you might like other medical shows like Botched or Untold Stories of the ER. 
Botched fulfills the craving for a makeover show, but the people on the TV show have explicitly requested help (unlike the ambush-style wardrobe makeover shows of the early 2000s). Patients on the show have generally had plastic surgery operations gone wrong and they see the doctors to try to get back to the anatomy they were born with. The results are often life-changing, like when rhinoplasty patients are able to breathe through their noses again for the first time in years. It's also a must-watch for anyone considering plastic surgery to really understand the risks of that kind of major surgery. 
Untold Stories of the ER is great for anyone that loves watching medical shows and isn't squeamish. This TV show tells you the best stories medical professionals and patients have to tell and illustrates them with low-budget, often gory reenactments complete with mostly Canadian extras. I particularly enjoyed episode 3, "Gunshot Affair" of the most recent season—it has everything.
Another staple of trash TV is dating shows. If you've seen any of The Bachelor franchise, you might like Dating: No Filter. This TV show has two blind dates per episode and comedians who comment on the dates and daters throughout. The comedian format provides the instant gratification of watching someone who just acted like a complete jerk get roasted, rather than waiting for the next rose ceremony for the jerk to inevitably get a rose. The stakes in this show are low since potential couples only come on the show once so you don't have to watch anyone truly get their heart broken.  
Whether a political campaign you worked on just wrapped up or you just need a break from what's happening in the White House and Congress, take some time to rest up this holiday season. 2020 is shaping up to be a wild ride so you don't want to be burnt out before it even begins. Then, when you're feeling a little stronger, find out if you're ready to run.
Categories
Political Campaigns