Coronavirus Digital Trends and Media Consumption Insights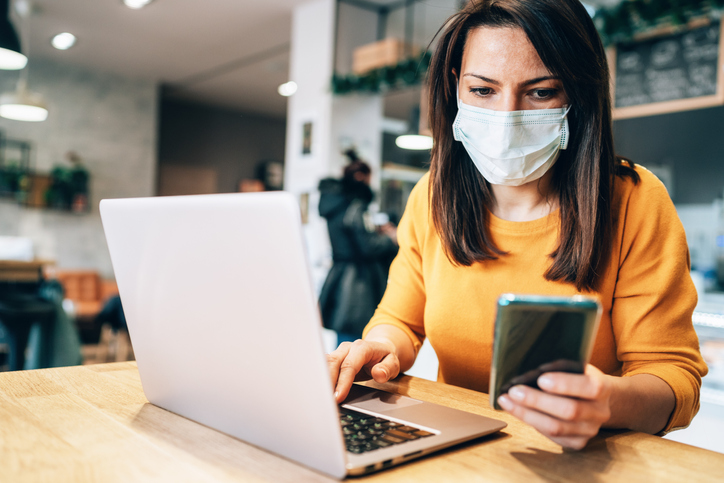 Understanding Coronavirus Digital Trends and Adapting Your Program for the New Normal
In the last few weeks, a lot has changed in our world, and we've gotten numerous requests for more information about coronavirus digital trends and changes in media consumption in general. Never one to stand between people and what they want, I've pulled together a list of some of the things we're seeing in our work, and from partners and clients. Understanding the current digital landscape is an important piece of the puzzle as we try to navigate member communication, advocacy and political campaign work within our new social distancing paradigm.
TV. Broadcast news viewership is up. Beyond broadcast news, television viewership is also up across the board, from cable and local news to kids programming (shout out to all parents who are trying to work and keep kiddos safe, happy and occupied all at the same time) and even game shows (Jeopardy had a 12% jump in viewership).
The Interwebs. Also, up? Website traffic, including trusted news sites (by as much as 22%). We also expect that the digital content generated by traditional broadcast news entities is likely to see increased traffic as people try to stay informed during the pandemic.
Connected TV. Inventory is on the rise as more people are upping their overall daily TV time (more eyeballs, more inventory). This means more ad space is available and it's more targetable than regular broadcast buying (though generally less micro-targetable than other digital ad units, depending on scale and provider).
Paywalls. Some paywalls are coming down to allow access to free premium content, particularly as it relates to COVID-19 news. This means a wider audience may be available for some premium digital content as you're thinking about targeting and ad space.
Streaming. There's a flood of new streaming subscribers and overall video streaming is up (according to Nielsen, Americans streamed 85 percent more minutes of video in March 2020 compared to March 2019, streaming 156 BILLION minutes of content in the last week of March ALONE… and yes, those things deserve the all-caps treatment). Live-streaming is also booming, with apps like Twitch reporting significant traffic increases. A lot of this streaming content does not include ad space (think Netflix or Amazon), but plenty of it does. And of course, when you think about viewing habits and multi-device households, this likely means more overall device time while streaming as well.
Cord Cutting. Though cord cutting has stabilized during the pandemic, it shot up to 42% at the end of 2019 and analysts expect COVID-19 and its economic impact to accelerate the trend toward cord cutting and breaking telecom bundles. YouTube can help you reach cord cutters and reach them consistently. The platform itself (and obviously weigh this within your specific content, as they're trying to sell ads) is recommending allocating 200 points of every 1,000 point buy to YouTube spend to get in front of viewers that simply aren't reachable via traditional broadcast buying.
Virtual Meetings. America is Zooming. As more of us adjust to working from home, video calls and trainings have become much more routine. Last month, Zoom reached over 200 million daily users (versus 10 million just a few months earlier). Zoom also has an integration that allows you to stream your webinar on Facebook or YouTube, which is very handy if you want to broadcast to a wider audience. Be aware that there are certain security risks with Zoom, especially if you are recording. You can also take some simple steps to help avoid zoom bombing. 
Search. There has been a large spike in search traffic (specifically traffic related to COVID-19 searches, which now far exceed any other popular search categories), and it appears to be clustered around early morning and late evening hours. While there's a boom in search volume in those hours, conversions appear to be significantly lower in those blocks of time. Weekends, however, appear to have search volume and distribution more closely aligned with pre-pandemic levels (within about 10 percent). This article has a few helpful suggestions as you're thinking about your search programs and how to adjust and analyze your program. 
CPMs. Facebook and YouTube are both reporting significant decreases in their cost per thousand impression (CPM) rates—by as much as 22 percent. This means that you might be able to get more bang for your buck. That said, conversion rates are down (this data is centered on consumers buying things, but I think it's likely to extend to any fundraising you might be doing on either platform). If you're going to take advantage of the lower rates, make sure your goal aligns with the other factors at play in the current ad environment.
Organic. User-generated and other forms of organic content have also seen an increase— nonprofits, campaigns, companies and people are creating more content on their own out of necessity during this time.  
Social Media. As people spend more time being socially distant, they're turning to social media to fill some of that interactive space. Facebook released stats showing significant increases in use across its properties, including What's App and Instagram. Facebook Live reported a 50% increase in viewership. Twitter has seen an eight percent increase in users in the first quarter of 2020 as well. People are messaging more, calling more, and logging on for longer periods of time, especially in areas harder hit by the virus. 
Learning. Trainings, conferences and classes are going virtual, and due to the lack of in-person overhead costs, many are removing paywalls or discounting the price of admission. At TCW, we're holding our advocacy training virtually as well (you can sign up here if you're interested). 
I hope that some of this will be helpful to you as you navigate your work—whether in advocacy or electoral politics—and figure out how to build programs in this new, socially distant paradigm. If you have questions or are looking for additional resources and information, please don't hesitate to reach out.
Categories
Digital Campaigns