Political Campaign Photography: Tips for a Great Photo Shoot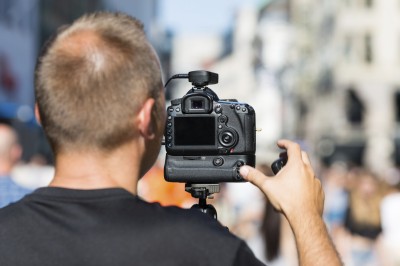 Political Campaign Photography Matters: Do NOT Wear Your Campaign T-shirt, Or any T-Shirt, to Your Photo Shoot
Running for office requires great political campaign photography that yield a set of great campaign photos. Last year's holiday card just won't cut it. Luckily, most candidate campaigns can get away with just one day of shooting, which means when you hire a photographer you can generally just pay a flat day rate, instead of a potentially costly hourly rate.  Here are some other tips:
Be sure to negotiate getting all the images and their rights immediately from the photographer. There is not one set of  rules for political campaign photography, negotiate what you want. You need to spell this out in writing. Get that out of the way and into the overall fee for everyone's sake.
Recruit volunteers. Candidates talking to people is a hallmark of many candidate campaign photos, but it's not nearly as spontaneous as it looks. In order to get the right set up, you'll need many volunteers who represent the age and diversity of your district. Swap them in and out of frames, and be sure to use multiple sets of people in each set up. Also be sure to have everyone sign a release agreeing to be used in materials.
Locations.  For good political campaign photography, don't just walk down the street and hope for the best. Secure a variety of locations that are reflective and iconic to the district in advance. Whether it's a business, a main street's sidewalk or park, you want to be sure that you'll have access to it. I also recommend doing as much outside as you can; natural light looks better and saves you time and money on lighting. Save any indoor shots for the very end of the day, or at noon when the light outdoors won't be flattering. Be sure to get any legal, business or union permission for your locations.
The candidate should change outfits at least 3 times throughout the day, and should have a range of business casual to business suits available. You wouldn't wear a suit to a park, so put them in khakis and a nice top for that set up. Conversely, that would look unprofessional at a job site or business, so the candidate should have a suit at the ready. Have the photographer take headshots at every location in every outfit in addition to the photos with volunteers. This will add a lot of options to your headshot catalog, and you'll need a lot. Trust me.
Most importantly, get the candidate to relax! Stiffness and discomfort are magnified on camera, so encourage them to recruit people they know and like to use as volunteers. Crack jokes and be sure to have water and snacks on hand to keep the mood up. The goal is for the candidate to look warm and trustworthy, so the more you foster that atmosphere, the better!
Have questions about political campaign photography ask them here:
Categories
Political Campaign Photography