Deep Canvassing in a Pandemic: A Complete Guide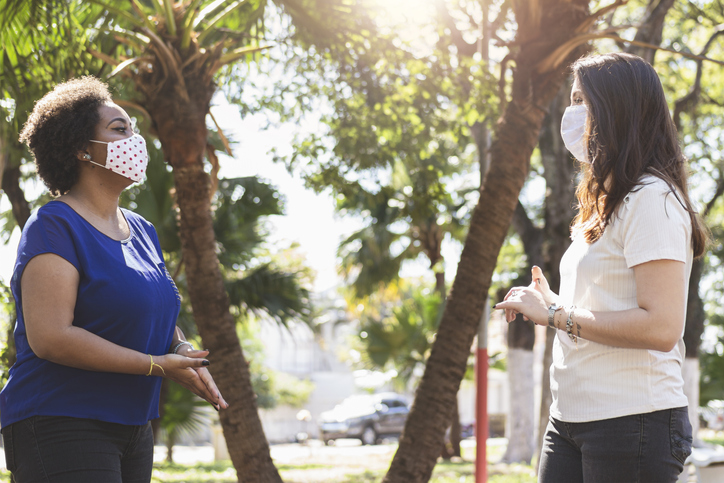 How to safely use deep canvassing to persuade voters
Deep canvassing is a growing tactic for voter persuasion that uses longer, two-way conversations.  Campaigns, especially electoral campaigns, are always on the lookout to find the most efficient and effective way to persuade voters to support their cause.  In the past, door to door canvassing and phone campaigns were a staple of field operations to identify and persuade voters to vote for their candidate or issue.  However, with the ongoing COVID-19 pandemic and the CDC recommending minimal close contact, campaigns have been forced to limit their in-person field operations and get more creative with how to get their message in front of voters.
This has been an even bigger challenge with an increasingly polarized and skeptical electorate, wary of the same campaign talking points.  Enter deep canvassing: an emerging method of using longer, more interactive conversations to engage with voters by making values-based connections.
What is deep canvassing?
First some numbers: studies show that when you have the resources and the time, deep canvassing can be surprisingly persuasive with undecided voters.  An analysis of a recent effort by People's Action this year concluded that their deep canvassing efforts were estimated to be 102 times more effective per person than the average Presidential persuasion program (that might use more traditional, shorter canvassing conversations).  The program, conducted over the phone, found an 8.5% impact on decreasing Trump's vote margin with women, and a remarkable 3.1% impact on decreasing Trump's vote margin across the entire program.
The key is that deep canvassing emphasizes a conversation.  Where traditional door-to-door and phone canvassing use a quick 60 second script to ID voters, deep canvassing opens a longer 10-20 minute dialogue.  There's still a script, but it's used as a guide to build rapport with a voter.  
How do we deep canvass safely?
While most campaigns are sticking to the phones this year, some campaigns, including Joe Biden's, are slowly opening up in-person field operations in certain targeted areas. You need to be clear with your team about what is safe and what people feel comfortable with on your race.  Here's some tips to keep in mind if you go in person:
•    Use personal protective equipment: If they're going in person, always make sure your volunteers are equipped with masks and face shields, which are just as important as a pen or clipboard.
•    Keep your distance.  Always make sure to maintain six feet of distance to keep you and the voter safe.
•    Make sure volunteers are on board.  As always, if volunteers go out, make sure they're comfortable and clear with the plan.  •   Use open communication with voters about safety.  When you start a conversation with a voter, respect their boundaries of social distance, and be flexible if they want to speak outside or further away.
Other Options
The first and most important question this cycle is how to contact voters without putting them or your staff and volunteers at risk.  Here's some creative ideas on how to have more "deep canvassing" conversations with voters even if you can't make it to their door:
•    Use phones when you need to.  Deep canvassing can be successfully done over the phone, in fact the above study was conducted using phones.  Just make sure you're using the right targets and good lists and you're clear with your volunteers about adapting the script.
•    Get digital!  There is no single method to engage voters.  Use zoom meetings, Facebook live, or other social media events to invite voters into a conversation with you.
•    Schedule conversations on the voter's timeline.  Some campaigns have dropped notes on doors that welcome the voters to engage with the campaign on their time.  You can leave a note that asks, "when would you like to hear from us?" and have them request a time when you can schedule a call or meet safely outside.
Drawbacks of deep canvassing and things to keep in mind:
From the top, it's important to mention that deep canvassing is just one tool in a field campaign's toolbox.  It is neither a magic bullet nor a catch-all that all canvassing should transition to.  Most campaigns that use deep canvassing effectively do so on a large scale, with thousands of volunteer shifts over months.  These conversations are well-suited for issue campaigns or electoral campaigns with early established resources.  If your campaign is short on time, money or volunteers, consider being very precise with your deep canvass persuasion goals and targets.  Keep in mind that deep canvassing takes longer, and while that makes it more effective, it also makes it harder to factor into the tight final month of a campaign.
The silver lining of longer conversations is that they have a longer impact.  Standard canvassing can be counteracted in as little as 3-5 days, especially in such a crowded and noisy political climate.  Research shows that deep canvassing conversations can have an impact with voters for nine months or longer.  If you have the time, deep canvassing can make a lasting change in the electorate.
What's the script look like?
As mentioned before, the difference between deep canvassing and a regular canvassing script is the opportunity for a longer conversation.  The right script will build rapport with a voter through checking in, discussing common values, sharing stories about what's at stake in the election, and eventually connecting those stories to what candidate or issue to support.  A deep canvassing conversation can be split into three sections:
•    Check in: Volunteers can open with a check-in, simply asking "how are you holding up" and acknowledging how many people are contacting voters at this time.
•    Share common values: Encourage volunteers to share their stories about why they personally are voting, and what is at stake in this election for them.  Make the connection with a voter about a common value that you share.
•    Bridge to the candidate or issue: Over the course of the conversation, connect these stories and values to why it's important to vote for a particular candidate or issue.  If your candidate has personal stories connected to the issues discussed above, share how they understand those as well.
Targeting and planning:
As I mentioned, a campaign of any size that chooses to use this must do so on a specific, targeted list to persuade.  Large-scale deep canvassing campaigns can take months to train volunteers to get right, so make sure you're using volunteers that you trust to communicate your campaign's message effectively.  The lists are also smaller.  Rather than a 2 hour shift with 30-40 doors or numbers, a deep canvassing shift will include 10-20 doors or 30 numbers, to factor in longer conversations.  In a 2 hour shift, a volunteer can expect to have about 5 conversations.  If your campaign wants to target 1,000 persuadable voters, you will need to schedule 200 shifts, and with 3 dedicated shifts a day, could take up to 70 days. 
For a bigger campaign with the time, that timeline may work.  But for smaller campaigns, consider using deep canvassing as a tool to target harder-to-get voters.  Consider using it for a few hundred that have higher turnout scores but lower support/partisan scores, or for stronger supporters that have lower voting propensity.  Again, it's critical to use deep canvassing as a targeted tool within a broader plan.
Categories
Political Campaign