Young Voters Matter: TCW Young Voter Turnout Guide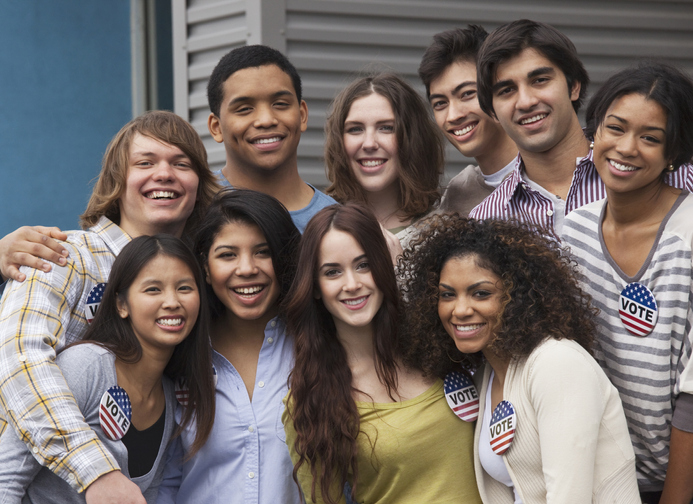 Young voters have some interesting and important habits that your campaign needs to know about.
If conventional wisdom holds that young people are uninterested in politics, then the past two election cycles have been anything but conventional. According to the Center for Information and Research on Civic Learning and Engagement (CIRCLE) at Tufts University, young people are more interested in politics than ever before. From the 2014 to the 2018 midterms, turnout among young voters doubled.  In the 2020 general election, estimated turnout among voters aged 18 to 29 was 52-55%, while in 2016, that was 42-44%. This upward trend of youth voting  is especially promising given the low rates of contact campaigns and political parties have with young voters. In 2016, a paltry 30% of younger voters report being contacted by any campaign or party.
Now is the time to ride this wave of increased young voter turnout and take advantage of surging political interest among young Americans. To help you develop a strategy to win over young voters, we've compiled some key takeaways on young people's voting habits and political interests based on research from CIRCLE.
The following facts and statistics are from CIRCLE's report, Election Week 2020: Young People Increase Turnout, Lead Biden to Victory.
Young Voters' Political Beliefs
Fact: Young people lean progressive.
Young people tend to vote blue. Sixty one percent of voters age 18-29 voted for Biden, compared to 54% of voters 30-44 and 48% of voters 45 or older. As expressed by CIRCLE, young voters "were instrumental in the victory of President-elect Biden and Vice President-elect Harris."
The only youth subgroup to support President Trump in 2020 was young whites without any college education. But young Trump voters were more moderate or even liberal compared to older Trump voters. This is especially true on issues young people typically care about, such as believing racism is a serious problem or having concerns about climate change. 
Takeaway: If you are a progressive running for office, you're likely already ahead! But don't take this for granted. Young voters may favor Democrats but that doesn't mean every young voter will be motivated by the same issues. 
Conduct a careful assessment of the issues young voters in your district care about, even the ones that aren't in the news 24/7. For example, public transportation isn't a particularly sexy issue, but it might be a top concern for young people commuting to class or travelling to a part-time job.
Fact: Young BIPOC voters overwhelmingly supported the Biden-Harris ticket.
Eighty-seven percent of Black Youth, 83% of Asian youth, and 73% of Latinx youth voted for Biden. In comparison, 10% of Black youth, 15% of Asian youth, and 24% of Latinx youth voted for Trump. For context, 51% of white youth voted for Biden and 45% voted for Trump.
Takeaway: Reach out to BIPOC communities!
Get to know the diverse communities in your district. Speak with ethnic community leaders, religious leaders, and racial justice advocacy leaders. Spend enough time with each of the communities in your district to appreciate the issues they're concerned about.
Remember, ethnic groups are not cultural, linguistic, or political monoliths. Within the Asian American community, for example, middle-aged and older Vietnamese Americans tend to vote Republican, while Indian Americans are the most Democratic.
Fact: The issues of paramount concern to young Biden voters and young Trump voters mirrored the top issues for each candidate's voters at-large.
Young Biden voters were most concerned with COVID-19 while the top issue for young Trump voters was the economy. Other top issues for young voters were racism, climate change, and health care.
Takeaway: Own these issues! Your messaging to younger voters should focus on these key concerns with a long-term lens.
Young voters are concerned about COVID-19 because the virus has upended some of their most formative years. Young people face unprecedented uncertainty around pursuing higher education, managing their personal finances, launching their careers, and maintaining their long-term physical and mental health. Your messaging should acknowledge these concerns and explain how you can bring real, sustainable solutions to the table.
And by addressing systemic issues like racism, climate change, and health care through a long-term lens, you will prove that you are willing to fight for what's best not just today, but also for what will be best even when you're retired from office.
Young People's Voting Habits -
Fact: Young voters are more likely to decide who they will vote for later in the cycle. 
Takeaway: Do not cease contacting young voters halfway through the campaign. Your conversion work on younger voters must occur throughout your campaign, perhaps even as a component of youth-targeted GOTV efforts. 
Fact: Most young voters were "not too confident" or only "somewhat confident" that 2020's vote count would be accurate, and many expressed concerns over the influence of foreign actors in the 2020 election.
Takeaway: Your voice needs to become a trusted beacon of light cutting through the fog of skepticism that has been keeping young people from the polls. Give young people a reason to vote along with a reason to vote for you. Reiterate that this past election was the most secure election in this country's history, and explain that their vote will have an impact, especially in local elections or swing districts. Remember, young voters think about issues with their futures in mind; frame issues in the context of how they will be affected ten years, twenty years, or even decades from today.
Fact: Young people engage other young people in politics. Over half of young voters report trying to convince other young people to vote, and 70% report talking with friends about politics.
Takeaway: People trust their friends and family. Hearing your message from a trusted source makes it more likely that voter will vote for you. Take advantage of young voters' networks with our guide to relational organizing.
Looking for more info about the youth voter, younger voters or engaging specific audiences?  Sign up for our blog list and get a weekly email from us.
Categories
Political Campaign