So You Won Your Political Campaign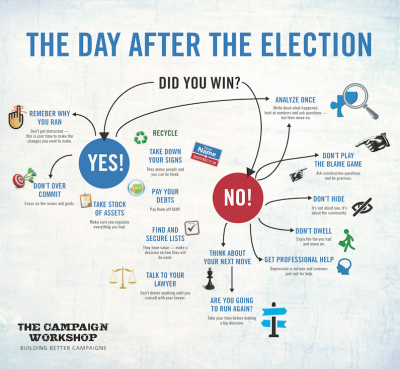 You Won Your Political Campaign, Now What?
Congratulations on winning your political campaign! You won a hard fought political campaign and have gotten the chance to represent your community. Most candidates who run for office don't win. But you did! And that is awesome. Here is some advice on what to do next.
Thank folks. You won, but it wasn't just you who made it possible. You had a lot of help. Voters, volunteers, donors, friends, family and organizations—they all played a part in your political campaign. So thank them in person or with a hand written note. Thank everyone; believe me, they will remember.
Remember why you ran. You wanted to make change in your community, now is your chance. Do it. Think of the issues and problems you want make a difference for and do it. Don't let the mayhem of being an elected officeholder distract you from achieving the goals you set out to accomplish in the first place.
Don't over commit. Focus on the issues and goals you ran on and achieve those goals.
Help your staff find jobs—but don' t hire all of them. Just because someone worked on your political campaign does not mean they are qualified to do public policy, or have the temperament to do case work. Hire the ones that are right to work in your office, and help the ones that are not suited to do that work do something else. Do not string anyone along.
Pay your debts. Hopefully you won't have any debts, but if you do, develop a plan to pay them off quickly. Don't wait on this.
Take stock of your assets. What does the political campaign leave in its wake? Major assets for future runs or organizing efforts! You need to make sure that you organize everything you have.
Find and secure all of your lists. Volunteers, donors, Ids, sign locations— they all have value. Make sure that you decide what happens to these assets.  Don't let a well-meaning volunteer copy them and give them away to another candidate. You need to make the decision on how these are best used and kept.
Take down those damn signs. Yard signs that never get picked up annoy people. Your political campaign can also get fined real money. Make sure you have a plan to pick up signs and get them off the street.
Talk to your lawyer before you delete files. Understand what files you need to hold on to and what files can be destroyed. Save all files on a secure portable drive, as well as on a second back up device.
Recycle. Make sure all of your paper, lit signs, wood posts, etc get recycled or saved for the next race. A special pick up may be needed, but don't just throw all your paper in the trash. Give your desks, office supplies and scrubbed computers away to folks who need them.
Analyze your race once. Write down why you won, look at the numbers, ask your staff and then write down the answers. Then put it away for a while. Don't make this a protracted process. In the end, it will not help you win the race again. In most cases, your next race will have very different dynamics but I know you can't help but analyze it. So do to quickly, for one day and move on.
Congratulations on Winning your political campaign.  Have questions on what to do once you win a political campaign. Ask them here:
Categories
Political Campaigns