Political Email: Does More = More?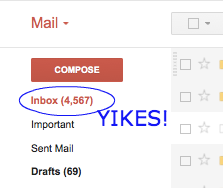 All the Political Email, All the Time!
If you signed up for political email lists during the last election, you probably noticed a lot of email traffic. A lot. If, like a lot of us here at The Campaign Workshop, you were signed up for the political email lists of multiple candidates, campaign committees, advocacy organizations and more, you probably had an inbox flooded with emails. Which makes us wonder: is more political email better?
The answer, of course, will depend on your organization's size and capacity. For the Obama campaign, with tens of millions of people on their email lists, they were able to afford the drop off that comes with sending so many emails. For a local city council candidate, that might not be a luxury they can afford. Another factor is your campaign or organization's capacity. Do you have the staff to be able to send multiple emails a week? Not only will that involve sending the emails, but tracking results, monitoring feedback from recipients, and making sure the list is up to date by removing any new unsubscribes. If there are 4 of you in the office, this might not be realistic.
It's important to map out an email calendar. Look at the next three months and figure out when you have events coming up, or important deadlines. Plan your emails around these dates. Even if you don't yet know a topic you'll email on, having something on the calendar will help keep you organized. And help keep you from sending too many emails.
Whether you're sending a lot of political email or a little, make sure you're always paying attention to your statistics. Pay close attention to the number of people clicking on links, as well as the number of people opening your emails. And make sure you track the attrition rate. If you are losing more people than you are gaining to your political email list, there is a problem.
With political email lists, you can often get away with sending more than you might think. Sending out an email once a month may not be enough to keep your supporters engaged. There is a fine line between just the right amount of emails and too many emails on political email lists. However, as long as you are tracking results and keeping a calendar, you should be able to increase the number of emails you send.
Categories
Political Campaigns