Advocacy Engagement Funnel: Be Intentional About Advocacy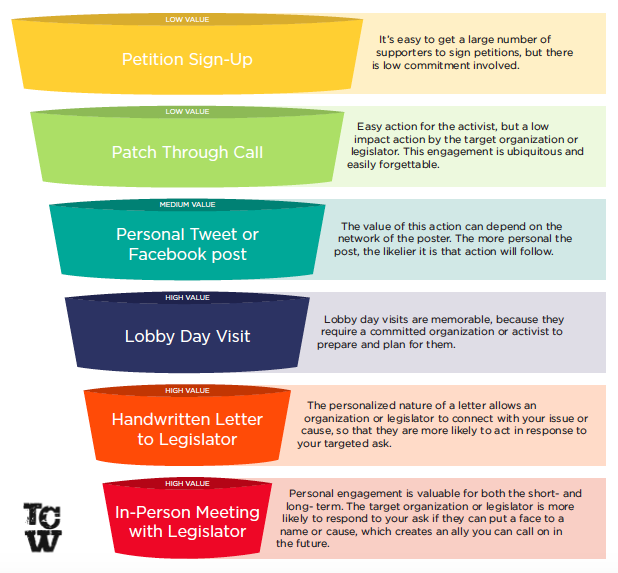 Advocacy Engagement Funnel: Don't Miss Your Advocacy Engagement Opportunity... 
What is the advocacy engagement funnel?
It is hard to be intentional about advocacy engagement. That is why we built this handy advocacy engagement funnel. Think of your advocacy strategy as a funnel. You need to define what a high-value contact vs. a low-value contact will be. You want to have a clear strategy to move your action-takers to make a more meaningful action. The more personal the action the higher the value.
Check out our New Advocacy Funnel Infographic (See examples of action items and their engagement value)
What is the difference between a marketing funnel and an engagement funnel?
They are very similar. For a marketing funnel, you are turning leads into customers. In an engagement funnel, you are turning supporters into engaged activists.
What do I do with people who don't seem engaged with my message or my content?
If someone has never responded to you or engaged with you, delete them from your list. Your time is better off spent putting individuals who have engaged, in a basic way in the past, into an engagement funnel. In fact, it is important to know your membership. If you have clear membership guidelines and a good idea of what types of people are engaging with you, you will likely have more avenues and information to engage them - this is fantastic! 
What is the easiest engagement?
Petitions and patch through calls are easy engagements because of the ease and ubiquity of these methods. These engagements are ultimately short-lived, and, thus, can be thrown away in moments by the action taker once the activist, organization, and legislator will soon forget.
What is the hardest engagement?
The hardest engagement for folks to take is a personal one. The more personal the action - though valuable for both the short and long-term - the tougher it is to achieve. Legislators are inundated by the easy action while the personal ones stand out. These actions are also ones that solidify a relationship and transform either your high of low-value contact from a causal action taker to a real activist. Instead of thinking of engagement as a single stop think of it as a journey - only a thoughtful path creates real engagement.
Where do folks get stuck?
Tracking funnel steps - using a CRM or even a spreadsheet can allow you to track specific engagements and several at a time. 
How do you reconnect with folks? Why is this hard?
For people you have had limited engagement with, start with the easiest engagement tactic in the funnel. To be successful you need to put yourself in the mindset of the target, and slowly build trust with indivdiuals who over time have fallen by the wayside. 
However, because we are plugged into our missions, we make assumptions that our members and activists know what to do without being told - far from the case. This is a huge mistake. It is important to have a clear strategy post-acquisition. You need to establish what engagement means to you, and how you're going to continually engage and acquire people to be a part of your acquisition in the long term. Many people spend too much time and money acquiring members and activists without making the proper investments in keeping these connections. 
Bottom line: By setting and holding yourself accountable for real goals and tracing them on a daily weekly and monthly basis, you will have a real chance of achievement. If you don't set and track goals you are leaving it up to chance, because engagement is an investment and a process that, let me tell you, is 100 percent worth it!
Have questions about the advocacy engagement funnel? Ask them here.
Categories
Advocacy