Write a Political Speech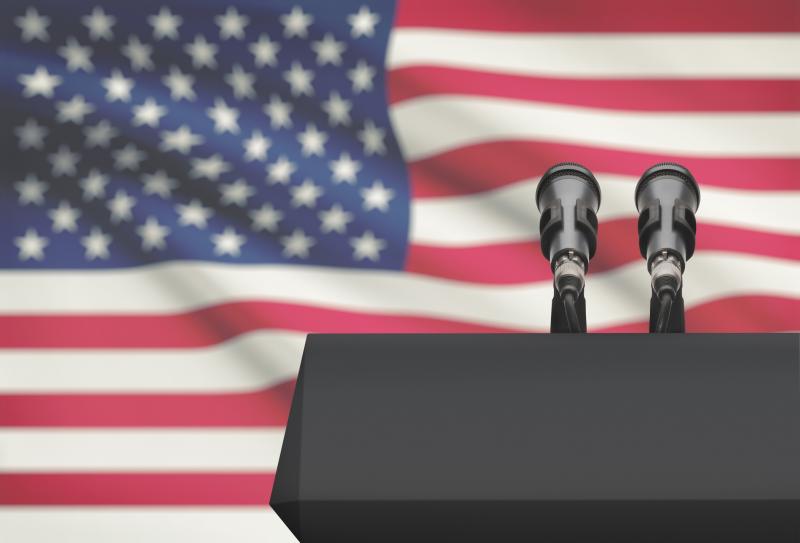 Write a Political Speech for Strategic Communications
Write a Political Speech - All candidates for political office should have a strategic communications plan in place, but not all candidates need to worry about writing lots of speeches for their campaign. For local office races, you may only find yourself wishing you had a speech during your announcement and on election night. In those moments, don't panic! Writing a basic speech is easier than you think.
Monroe's Motivated Sequence
There's a format used by most political speechwriters, whether they realize they're using it or not, called Monroe's Motivated Sequence.  When you write a political speech use the five components of the Monroe Sequence, you can develop a persuasive argument to communicate just about anything your campaign might need - GOTV, asking for donations, defending a policy - in no time! All you have to do is place your argument into these five strategic steps:
1. Attention: This is where you draw the audience in at the top of a speech. It's often necessary to welcome people and thank certain members of your audience right away, but try to keep that part short. Instead, focus on engaging your listeners. An attention grabber could be anything from a short personal anecdote to a rhetorical question. It allows the audience to connect with you and settle in for the rest of the speech.
2. Need: The need step could also be known as the problem step. This is where your argument truly begins. In the context of a strategic communications plan, the need step often lays out how a certain elected official or policy isn't doing the best job. In this phase of the speech, you want to invite the audience to question their current situation.
3. Satisfaction: Satisfaction comes when you provide a solution to the problem that was laid out in the need step. You want to calm the audience's anxieties by explaining how you are going to make their lives better, and how the problem doesn't have to exist. Is the problem that the district's representative is failing to support small businesses? Lay out your plans to promote the local economy. 
4. Visualization: The visualization step can be a little bit tricky because it's fairly similar to the satisfaction step. In the satisfaction phase, you are presenting the details of your solution. Visualization ramps things up a bit by inviting your audience to imagine what their lives would look like if your solution (most likely you getting elected) actually happened. You need to paint a clear picture that the audience can see themselves in.
5. Action: It's all built up to this - asking your audience to actually DO something about the problem in order to help achieve your solution. In a strategic communications plan, this often means asking for a vote or a campaign contribution. The most strategic action steps are clear and simple. You want the audience to understand exactly what it is that they can do, and then feel compelled to do it. The action step should sum up what the purpose of your speech was all about. 
While this is the most standard sequence used when you write a political speech, feel free to play around with the order of the steps. Just remember that ultimately, each of these steps is helping you prove a point. Don't be afraid to break minor grammar rules, either. Writing for the ear is different than writing for the eye. If you spoke in the same style as most great writing, you would probably come off sounding a little distant or robotic to your audience. Starting sentences with conjunctions and using common language can actually work really well in a political communications. 
Have questions about how to write a political speech?  Comment below. Check out blogs on political communications here!
Categories
Campaign Tactics