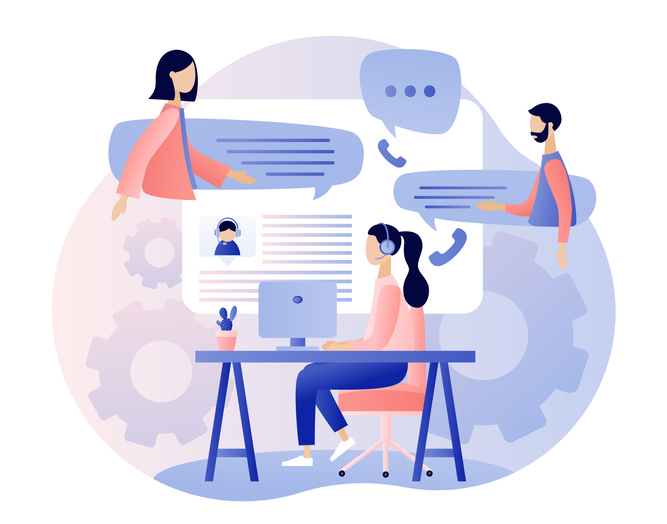 Telephone Town Halls: Do Political & Advocacy Campaigns Need Them?
What are  telephone town halls? Think of a telephone town hall as a cross between a radio talk show, an old-fashioned town hall, a member meeting, and a conference call all done in the comfort of your home or office. 
Why host a tele-town hall: It seems like everyone is looking for ways to engage their organization, membership, and voters in a quick and compelling way. A telephone town hall is a way to move your audience. 
How to recruit for telephone town halls:  Recruitment is done by phone a call or SMS. A call or text goes out to a list to get them on the line and engage folks in a "conversation". 
How well do telephone town halls work? They work well. The main downside is not everyone responds to telephone town halls, but Facebook live videos and zoom calls can also work for audiences who don't engage by phone. 
Can you raise money with it? Sure, many groups and organizations raise thousand of dollars with new donors and resolicited old ones through tele-town halls.  
Who uses tele-town halls? Elected officials are common users of tele-town halls and some do this through constituent service funds. Nonprofits, unions and other member organizations all use telephone town halls as well.
Each telephone town hall has a formula for success. Use these tips to build a winning tele-town hall:
Have a strategy. Make sure you have a strategic reason to apply the tactic. If this helps achieve a strategic goal, then it makes sense.     
Have a hook. People need a reason for getting on the call. Whether it is Coronavirus, work you are doing on stimulus, or a focused piece of legislation, make sure your approach will engage your constituents. 
Test your hook. You can use social media and email to test what folks respond to and use that in your telephone town hall. 
Have a good message for your telephone town hall. Make sure you are delivering a clear message through the town hall. 
Build a good list. The quality of your list matters a great deal. Telephone town halls are driven by outbound calls that allow folks to know when it will occur.
Know your total budget. How much can you spend? To really be successful, you will need to spend money on the town hall and on promotion. 
Have a plan to promote your telephone town hall. A telephone town hall is not something that you can do without promotion. You need a real plan to promote your telephone town hall and get participants to show up on the call. This can look like any of the following
Calls for promotion – Using calls to promote, whether it is outbound robocalls or you or volunteers personally dialing constituents. 
Digital ads to engage – Digital advertising on social media platforms such as Facebook and Instagram can help.  Link digital ads a sign-up page. 
Search ads – Running search ads around your topic can work really well and are typically very cheap.  
Think about direct mail – If you are doing direct mail around your virtual town hall, you need to make sure you have scheduled out time for the delivery so you can use mail in conjunction with other mediums.  Mail stands out and can make a lasting impression for your message.
Don't forget email – Email is the best tool for conversions in general. It is so ubiquitous that often email is often overlooked but using and building an email list for telephone town halls works really well. 
SMS – Engaging folks through text is pretty natural. A telephone town hall is a way to collect text opt-ins as well.  
Focus on timing. Depending on the timing of your telephone town hall, you want to work from the date of the call backwards to schedule communication.  Don't rush to do a town hall without the right amount of time for promotion.
Use a high-quality moderator. You need a team that will be in charge of the logistics the night of the telephone town hall and someone who will keep the conversation going.
Practice your message. Do not just wing it – make sure you practice what you are going to say. Be prepared for tough questions. 
Respond to the right questions. Have a system through your telephone town hall consultant to screen and choose the questions you want to answer. 
Know what drives action on your issue. Make sure you ask people to do something on the call – how can they get involved what can they do top help? 
Hone your pitch. Getting folks to participate is an art and a science. Test and refine your pitch to get folks to engage. That means highlighting the right issues and message. 
Collect info from participants. A telephone town hall is a good way to collect data for member engagement, fundraising, and advocacy. 
Build a list and keep it organized. You will build supporters and get engagement if you run an organized town hall. 
Don't forget reporting. Make sure your telephone town hall vendor gives you detailed reporting.  Tracking participants, donations, and engagement. 
Telephone town hall buying guide: 
Pricing: The cost of a telephone town hall is based on the volume of outbound calls and participants who participate in the call.  The price of the call varies greatly by vendor. Everything is negotiable. Be clear on what you are willing to pay have a budget and stick to it.  
Quality: The quality of the calls can vary greatly. Moderator, recruitment connection, and the system with which you run the calls through all matter. Make sure you get references and hire someone you can trust. 
Selection: How do I find a good telephone-town hall consultant? Ask for recommendations from folks who have done town halls in the past, compare costs. 
Telephone town hall questions? Ask us below!