Republican vs. Democratic Direct Mail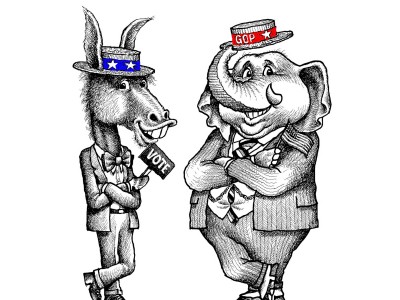 Republican and Democratic Direct Mail Differ Less than You'd Think
As a Democratic direct mail firm, we are asked all the time whether there is a difference between Democratic and Republican direct mail. The short answer is, not really.
Surprisingly, both sides use similar strategies to reach voters. While we don't agree on the content of the mail or on the union printing, from a creative and targeting stand point there is a greater difference between good direct mail and bad direct mail than Democratic and Republican direct mail.
The best firms from both sides of the aisle use similar elements. They work to create strong contrast and use creative that jumps out and gets people to read it. This includes attention grabbing photos and headlines, and clear, concise copy. Good direct mail, whether Democratic or Republican, draws the reader in and connects on an emotional level. Good direct mail makes an impact: it's something you read if it lands in your mailbox. The bad direct mail is easy to spot. I am sure you've seen it – lots of copy, vague messaging and unappealing photos and graphics.
Just as important as good, clear and impactful design in good direct mail is targeting – i.e. which voters get the mail. Targeting is a place where Democratic direct mail consultants have excelled in recent years, due in no small part to investment in a lot of data targeting infrastructure. Technical campaign advances are a swinging pendulum though, and Republicans are working hard to catch up and create their own infrastructure that is as good or better than the Democratic counterpart. So we can't afford to sit easy.
Here are some examples of our favorite Democratic direct mail. Use the comments below or send us an email with any differences you see in Democratic vs Republican direct mail.
Got Questions? Contact us here.
Categories
Political Direct Mail