What is Red Tag Political Mail?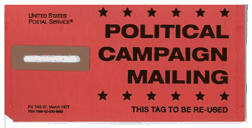 Red Tag Political Mail, Does Your Mail Qualify?
Red tag political mail is a mystery to some. You may wonder how the United States Postal Service (USPS) treats the massive amount of campaign mail that moves through the postal system each election. The "secret" is red tag political mail. We write about this in our direct mail ebook.  The USPS  has a very effective system for identifying political mail and moving it quickly through the mail stream and into mailboxes before Election Day. Qualified election mail is given special treatment by the USPS that expedites its movement through the postal system. When campaign mail is sorted and processed by the mail house and packaged for delivery to the postal facility, each tray, sack, and pallet of  election mail is affixed with a special red tag. This red tag alerts all postal facilities in the chain that the mail is political and afforded expedited processing through the mail stream (meaning it should be treated as First Class mail).
Red tag political mail is also tracked and logged at each stage of the USPS chain. Each facility keeps a political mail log for this purpose so the campaign mailers received at the facility can be noted and logged upon receipt. In the past, this was one of the few ways we could track mail. Fortunately, we now have more accurate methods for tracking election mail in the postal stream. If you have any additional questions about red tag political mail, campaign mailers and  postal issues, please feel free to leave them in the comments section.
Got Questions? Contact us here.
Categories
Political Direct Mail