Texting for Advocacy | Opt-in to SMS Texting for Nonprofit Advocacy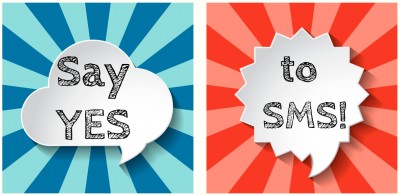 Texting for Advocacy: Nonprofits Engaged in Issue Advocacy Should Be Using SMS
Are you texting for advocacy yet? If you're a nonprofit working in the advocacy arena, you should be thinking about incorporating SMS (or texting) into your issue advocacy communications program. If you are looking for texting tools for advocacy check out our list of 100 campaign tools. Texts are, in many ways, a very personal way of communicating – a quick way to touch base with friends, family, colleagues, etc. But as people increasingly depend on mobile phones they turn to SMS as a way to communicate (as of 2010 – four whole years ago – data use outpaced actual phone use for Americans with cell phones), it's important to adapt and incorporate text into your advocacy work.  Meet people where they are, as it were.  Here are 3 reasons to consider texting for advocacy if you haven't explored this particular medium already:
It's a fairly intuitive point, but people haven't started ignoring texts for issue advocacy the way they have advocacy emails. Advocacy Texts have a huge open rate compared to advocacy email, and what's more, people tend to read them.
About 1 in 3 American households has no landline – they're completely mobile. This means that when people on your list provide you with a phone number, chances are many of them are providing you with a mobile number.  Building a mobile advocacy list does take time, but if you have a supporter list, you likely have some mobile numbers already in your back pocket (just be sure you ask them to opt-in before you start sending them regular action alerts!).
Advocacy actions viewed on a mobile phone are often very easy to complete, which should encourage a higher conversion rate.  This is particularly true in terms of SMS.  If you're asking someone to make an advocacy call and they can simply click the linked phone number to connect, you make it easy for them to help you out.  The same goes for engaging with a video, navigating to a mobile optimized sign-up page, asking people to share something – the format for SMS (its brevity, its ubiquitous presence in people's lives, the ease of its use) makes it really easy for supporters to do what you're asking.
Interest piqued?  Change.org recently put on a webinar about texting for advocacy.  The webinar is long, but highlights include discussion of Greenpeace's experience building a text program and more stats about why SMS is a smart choice for the world of nonprofit advocacy (in case you need some numbers to sell the idea to your colleagues).
To sum up, if you're a nonprofit seeking to drive issue advocacy actions, you should opt-in to texting for advocacy (I'll be here all week, tip your waiters!).
Categories
Advocacy