Online Petitions: Is it time to get rid of the clipboard?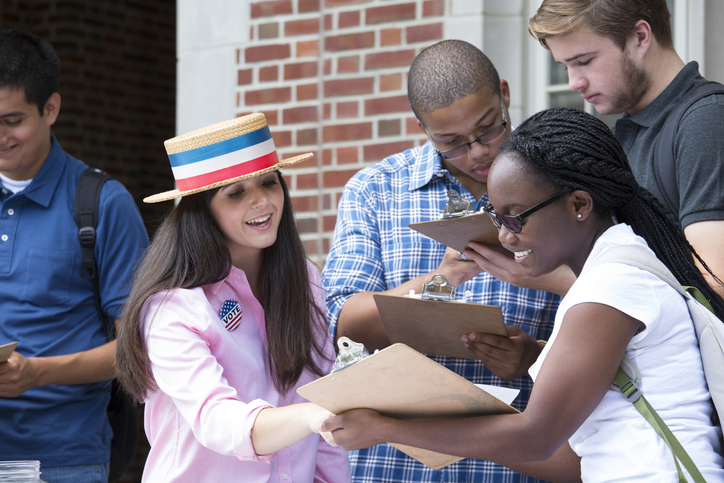 Online Petitions: Build Your Email List - With Digital List Building
You don't need a clipboard for online petitions, but you do need a strategy.
Online petitions are a great way to bolster your supporter base around an issue. You can use a digital action as a hook to get folks involved with your campaign or cause in the long run. List building isn't always easy, quick, or cheap—make sure you plan ahead so you can do it right and make the most out of your new supporters.
How do online petitions work?
There are a couple different reliable, cost-efficient ways to go about using online petitioning  to build your grassroots capacity digitally. The list-building landscape has changed a lot over the past couple of years, and the tactics you choose to expand your supporter base will depend on your budget, timeline, and geography, among other factors. 
There's no one-size-fits-all approach to use online petitions for list building. If your environmental organization is looking to strengthen its capacity in a state like California, you're probably in luck—that's a massive geography laden with potential supporters. But if you're looking to find folks who are passionate about protecting reproductive rights in a state like Mississippi, that will likely be a steeper hill to climb. With list building, flexibility is your friend in terms of time—plan ahead as much as possible in case you need to try different methods to figure out what works. Think of a list-building campaign as a marathon, not a sprint to the finish line.
Cost Per Acquisition
A traditional cost-per-acquisition (CPA) campaign involves contracting for online petition sign-ups at a set cost per name. Costs depend on the area you're working in but tend to look like $2.00–$2.50 per name on average. Each contact usually includes a name, email address, and physical address (or at least a zip code). 
Care2 is one of the most reliable CPA vendors in the progressive space, with a network of over 53 million members who are likely to take action around social causes. You can run online petitions (with an image or video at the top) through Care2 in a particular geography (e.g. the state of Florida) to find people who care enough about your issue to add their name to your action and opt in to your email list in the process. What's more, you can provide an existing list of your supporters to use as a suppression file so that you're not paying for names you already have.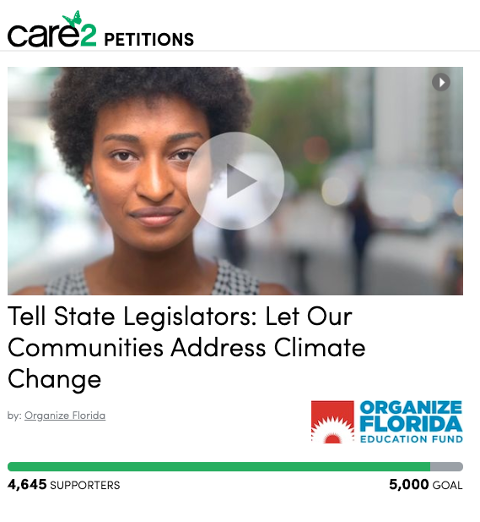 A newer feature that vendors like Care2 have introduced is the ability to contract for cell phone numbers. It's more expensive to build a list of textable cell phones (somewhere around $4.50–$5.00 per number), and you do need to invest in a carrot of sorts (e.g. a button or sticker) to incentivize sign-ups for this higher-bar ask.
A couple of caveats with traditional CPA:
The larger the net you're able to cast with your online petition targeting, the more successful your CPA campaign will be. Feasible CPA campaigns are typically targeted at the statewide level at a minimum due to inventory and scale—it can be tough to list build around a specific issue in a small area, like a congressional district. The more general you can be with your targeting, the more names you'll get in a shorter amount of time.
 
Vendors like Care2 often have minimum spend requirements. If you have limited budget and a short timeline, you may not be able to go this route.
Facebook
Our second favorite list-building option in terms of cost efficiency is Facebook acquisition. Facebook allows you to run conversion ads that link to a custom action, whether it's hosted on a platform like ActionSprout (which lives within the Facebook environment) or an independent landing page. There aren't any minimum spends on Facebook, so you'll have the flexibility to play around with a smaller budget. What's more, you'll have room to experiment with different creatives to see what kind of ads generate a higher conversion rate. And of course, if a campaign isn't performing well, you can pause it at the click of a button.
A couple of caveats with Facebook acquisition:
On Facebook, you won't be able to lock into a set cost per name as you can with a CPA vendor. It's tough to predict the average cost per name for a program until you launch a campaign, but we've seen costs range from $20–$150 per name.
 
You can't use a suppression file on Facebook, meaning you may end up getting some names that already live on your list. We don't typically see this happen at a large scale for clients, but it is something to be aware of.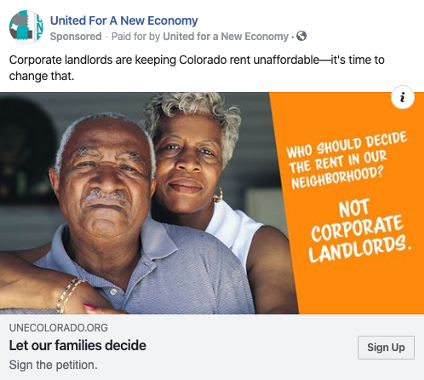 What to do once new supporters are in the door?
Your new supporter list is only as good as your follow-up system. When new supporters come in the door—whether through a traditional CPA campaign, Facebook acquisition, or other means—make sure you welcome them to your community promptly so they remember signing up and recognize your brand when you engage them in the future. We recommend reaching out to new supporters within a week (ideally as soon as possible).
You should also do everything you can to understand the behavior of your supporters once they join your list. Pay attention to open rates, click rates, and unsubscribe rates every time you send an email. Stick to one clear ask per email (e.g. like our Facebook page or email your legislator) to increase the likelihood that people will take action on your behalf. Finally, don't be afraid to play around with A/B testing—test different subject lines, email signers, and images to see if you can find patterns in the types of emails that your supporters are likely to find compelling.
As always, if you have any questions about setting up online petitions to grow your list, don't hesitate to reach out to our team. You can learn more about digital strategy for 2020 and beyond by checking out other posts on our blog.
Categories
Digital Advocacy