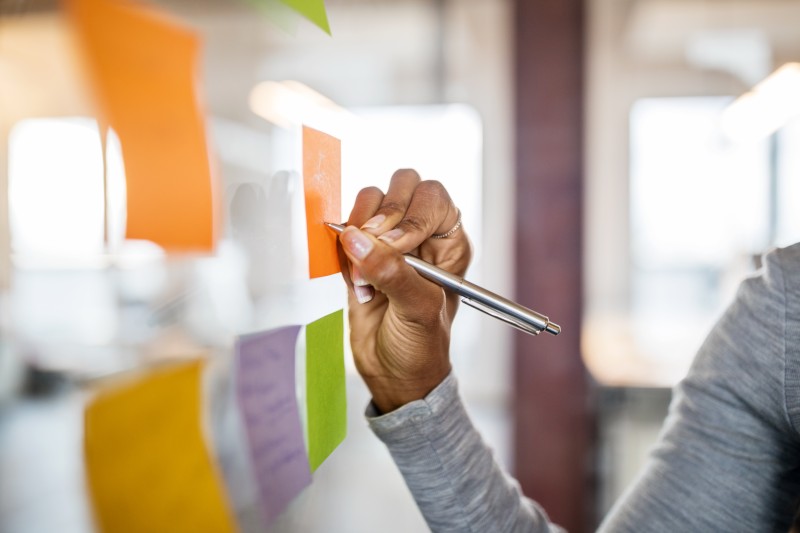 Advocacy Strategy and Advocacy Tactics: Do you Know the Difference? 
You and your organization have worked hard to create great policy. Now, how do you get Congress or your state legislature to turn policy recommendations into policy reality? You need to advocate for it. Advocacy can come in many shapes and budget sizes. But whether it's round or square, big or small, you need to have a plan. You need a clear and detailed advocacy strategy that outlines your overall goal and effective tactics that will help you cross the finish line.
Let's look at a hyper-local example. You and your neighbors love your dogs (how could you not?) and think it's very sad that the dogs only get to see each other while on leash. They all want to run, play, and do whatever else it is that dogs do, unfettered by their slow (but much loved) humans. You want to get the city to build a dog park. All the cool dogs have one and so should your community. So, you call a meeting at the local watering hole to plan out how to get the city to build a dog park.
Your first step is to develop your advocacy strategy:
Your advocacy strategy is the plan to achieve your specific goal, which, in this example, would be to get the city to build a dog park. Your strategy is a plan, including a collection of tactics that build toward your goal. Your larger strategic plan should answer questions, including (but not limited to):
Who are the relevant decision-makers you need to target? This could be leadership, a committee chair, or a potential advocate you need to engage. 
Who among them is movable and who is likely not? Know where you stand and look at the history around your issue to determine a path. 
What is your timeline and what are the important dates within it? Timing and planning around timelines are key, this lets you be proactive instead of reactive. It is easy to get into a pattern of reaction unless you plan. 
How do you develop a full advocacy strategy? Using a tool like the Midwest Academy Strategy Chart is a good place to start. Take the time to work through this.  
What tactics should be used to advance your goal? Once you have a written strategy, then you should define your tactics – but remember, in order to do so, you need to have set a strategy. 
Choosing your tactics:
So, what do we mean by advocacy tactics? They are the things you do to achieve your outcome – it's how you carry out your strategy. There are a lot of options when it comes to tactics and part of building out your overall strategy is determining which tactics will advance your goal, which might detract from it (for instance, if you set up shop in an empty lot surrounded by homes and blast "Who Let the Dogs Out?" 24 hours a day in protest of the lack of a dog park in that space, you will likely create opposition with those neighbors), and how to balance it all with your available resources (think: people, time, and money).
You can send letters, emails, or call your local elected officials or the relevant decision-makers when it comes to building dog parks.
You can make flyers to handout (or mail) to your neighbors asking them to get involved.
Maybe you want to really draw attention to Fido's plight with a little civil disobedience – hold a sit-in (walk-in) with your dogs, taking over the empty lot on your street that would be the perfect place for a dog park.
Call the media and hand them all those fancy flyers. Everyone loves dogs, especially local news stations trying to find uplifting news stories that work well on camera.
Create a petition on a site like Care2 to help drum up wider support for the park within your city. 
These are just some of the advocacy tactics that can make up your advocacy strategy. So, get out there and start advocating. 
Troubleshoot potential mistakes:
Before you move forward, make sure you check out our list of common advocacy mistakes. 
What are frequent mistakes folks make when choosing tactics? 
They don't think about goals
They don't understand what actions they want folks to take
The tactics don't drive the actions they need 
The tactics don't match their audience 
The cost of the tactic is not worth the outcome 
What are frequent mistakes folks make when developing advocacy strategies?
Having too small a coalition 
Not engaging with legislators ahead of time 
Avoiding the research step 
Misjudging legislative priorities 
Not using all your resources, only some  
Picking tactics before strategy 
Not having a clear or coordinated message 
No assessment of the resources needed (People, Time, and Money) 
Not understanding how long the goal will take to achieve  
What are ways to choose the right advocacy tactics for you?
Have a clear understanding of your goal, your audience, your budget, and the specific actions you want your audience to take. Understand what tactics work best for your audience. Know what tactic works best to get the action that achieves your goal. A successful strategy is usually achieved through specific actions that will achieve the goal. 
Need help in creating your advocacy strategy and planning advocacy tactics? Check out some more resources here: