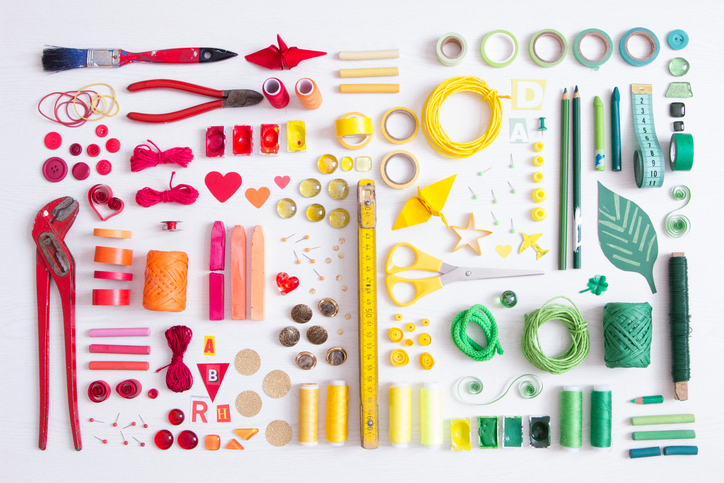 Campaign Management Tools: What Do I Need This Election Cycle and Why? 
So your advocacy or political campaign is gearing up for the 2020 cycle, and you're already starting to find that you can't possibly keep track of everything that's going on. Fear not — the 100+ Best Campaign Management Tools List will make your campaign life easier! Updated with new tools, Joe's 2020 Picks, refined categories, a fresh new look, and a SUPER easy-to-use interactive browsing tool, the Tools List will help you tackle your to-do list like never before. Dive in with everything you need to know below, or go ahead and get started if you already know what you're looking for! 
Why do I need tools? 
Working on a campaign can be chaotic, which is why it comes as no surprise to us that it can be hard to balance your campaign's needs. With everything between meeting your fundraising goals and generating engaging content, you have your hands full and are working against the clock. Why spend hours on something that could take minutes? You can ease your workload by taking advantage of all the great campaign management tools out there!
Why did we create the 100+ Best Campaign Management Tools List? 
In our years of working with progressive campaigns and causes, we've come across quite a few handy tools and compiled them all into our one-of-a-kind 100+ Best Campaign Management Tools List. We already know you're running out of hours in the day to check everything off of your to-do list as you gear up for the 2020 elections, and you don't have time to waste looking around for the right tools to make your life easier. 
Whether you're working on a political campaign or part of a non-profit or advocacy group, look no further, because we feel confident that one of these tools is just what you need. Whether you're in the market for a new website, looking to create a video and share it on social media, track your engagement and canvassing data, or anything in between, there is something for you on this list! 
The reality is that not every campaign management tool option out there will effectively address your specific campaign needs. For example, just within the last year, TCW was looking for an SEO tool that could help us optimize our online content. A simple Google search came back with some of the most popular SEO tools, but it wasn't until we actually tested them out that we could decide which SEO tool we wanted to move forward with. And while most of the SEO tools were similar, some tools definitely had specific features that we were looking for that others did not. This is all to say that you can't determine if a tool is the right choice for you until you try it. However, this list of campaign management tools will get you one step closer to finding a tool that's the right fit for your campaign, because we've already vetted them. 
How can I use the Campaign Management Tools List? 
So the coolest part about the 100+ Best Campaign Management Tools List is the format — it's searchable and sortable! You can search by price, category, and Joe's Picks. Whatever floats your boat!
We understand that this list doesn't fully solve the problem of choosing what tool is the best strategic fit for your organization or campaign, but it certainly narrows down the choices. Making time to understand your campaign plan takes thought, strategy, and a deep understanding of your primary and secondary goals. Like we said before, it's easy to waste a lot of time, money, and energy on campaign and advocacy tools that don't help, so don't rush into it. Take some time to read the reviews after completing your personalized search, and drop us a note if you get stuck! 
So what is new on the 100+ Best Campaign Management Tools List?
We combed through each and every tool to provide more accurate descriptions for you. Our categories have been refined to ensure they reflect the most important functions of each tool, easing the overall search process; each category is paired with an icon so you can easily identify what features each tool can offer you when browsing both the PDF and interactive version of our list. We've also added some new tools for you to check out and updated Joe's Picks to flag what we think are the best-of-the-best. 
How should I choose the right fit for me?
Here are a few questions that you should ask before you put down money for a campaign management tool:
How many votes do I need?
Having a clear and realistic vote goal is essential for winning campaigns. Identifying the win number and your own vote goal will help you to create a strategy around the votes you need to win and where you should spending your time. For example, if you have a large vote goal, and you need to turn out more people to vote, it might be worth investing in a field tool that organizes your canvassers and can compile the data you collect all in one place. 
Who will vote? 
A big part of the exercise of developing a vote goal is analyzing voter files and past voter turnout data to understand the potential electorate on demographic and geographic grounds. Additionally, it will allow your campaign to understand the electorate on an individual level to best identify who are likely supporters and what engagement tactics will be most effective. Ultimately, you need a good source of voter data to communicate with voters (where legal). Make sure the voter file is updated and easy to get data in and out of. Many voter files can also integrate with canvassing tools. For example, NGP VAN can import voter file data and store it in a single database together with your outreach records  — this is a super helpful addition if canvassing is part of your strategy.
What is my strategy to win? 
There are several ways to target potential voters that can be pursued simultaneously. Do you want to persuade existing voters that participated in the presidential election? Are there former supporters of your opponent that can be swayed to defect to your campaign with targeted messaging? Understanding how different demographics can be targeted, engaged, and persuaded should be a core basis of your campaign strategy. 
Some things you might want to consider:
How does my target audience engage with technology? Certain forms of outreach, i.e. Snapchat or TikTok target a younger demographic, while television has a wider appeal to an older demographic.
How easy are the tools to learn and use? For example, if you're sending canvassers out to use tools, you'll want to make sure that you can easily train them how to use the tool. You don't always need the fanciest tool to accomplish your goals. 
* Read more about strategy specific to political campaigns here.
What tactics should I use? 
Deciding on tactics before having a defined strategy is a common campaign mistake that can lead to significant difficulties throughout your campaign. An effective campaign will identify their strategy first and then develop tactics. This ensures that tactics fit identified target voters, campaign messaging, and platform points. Only then can you really determine what backup you're going to need from some of the campaign management tools out there to reach your goals. Otherwise, a campaign runs the risk of being handcuffed to tactics that may be ineffective or at worst, contradictory. This means you need to figure out your overall strategy BEFORE you start choosing tools. If you're organization fanatics like us, we know it can get exciting to try out new tools, but don't skip this crucial step!  
What resources will I have? 
People, time, and money are the core resources required for any political campaign. Knowing what resources are available to your campaign, and to what extent, is essential to making effective tactical decisions without over-extending your campaign. It's especially important to understand your budget in order to select what tools make the most sense. Before committing to a new tool, when possible, look at benefits and discounts offered by your state partner and partner organizations. You should also think about how many labor hours a tool will require. If, at the end of the day, you're spending significant money on a tool that will save you only 15 minutes compared to doing the job manually, that specific tool probably isn't a wise choice for your needs. In that case, your money is better spent elsewhere on something that will be more essential to your overall strategy.
What tools will help me enhance my campaign strategy? 
Okay, now we can finally talk about the types of campaign management tools out there. Depending on what type of campaign operation you're organizing, you'll need a diverse array of tools to streamline your efforts. For instance, if you're running a major canvassing operation, you'll need tools that allow for donor tracking, volunteer coordination, and relational organizing. 
Here are some specific tool types to think about: 
Data: Your campaign is only as good as the data that you have, which includes how you obtain your data and how you organize it. When it comes to pulling voter files, it's important that you have the most up to date information and there are several well-trusted data sources that we use for our client's campaigns. For those of you who are running a campaign that is more focused on list building, a good CRM will help you manage your data all in one place, so you can send dynamic emails to segmented lists.
Phone and SMS: Calling systems are a must for political and advocacy campaigns in the digital age. There are a lot of good ones — from traditional calling programs like CallTime to SMS systems like Hustle. Being able to connect with potential supporters en masse is an advantage for most campaigns.  
Voter Engagement: Accomplishing your goals will always require support on the ground, and that's what these tools are here to bring you–increased engagement! Connect with potential supporters to expand your base, inform voters about the issues, and drive people to the polls. 
Fundraising: Although your campaign will likely not raise as much money as the Bernie or Warren campaign to date, you will still need to be able to raise money and keep track of it. Regardless of your tool choice, working to raise money and having a way to keep track of it is a must.
Productivity: No matter what you're doing, you need to be making the most of your time. These tools help you coordinate with your team at the macro level or organize at the micro level, including storing passwords, scheduling meetings, and even mastering new skills!
Don't miss Joe's Top 5 Tool Picks of 2020:
BallotReady – BallotReady is a suite of tools that allows users to create both voter guides of endorsed candidates and how-to-vote plans for election day. BallotReady can get out the important information quickly and easily so voters aren't scratching their heads at the ballot box.
CallTime – CallTime streamlines the fundraising call process by doing the donor research for you. With CallTime, you can estimate a donor's likelihood of giving, determine a reasonable ask based on past data, and keep track of call notes and reminders. 
Digital 8 – From NGPVAN and EveryAction, Digital 8 is a comprehensive suite of digital tools that allow campaigns and organizations to raise more money and drive more action. Digital 8 features a standalone suite of email, online, and social tools with one-click actions, as well as forms optimized for mobile viewing, free social matching, and Facebook ad integration.
 
Flipgrid – Is it crunch time for your advocacy or political campaign? Use Flipgrid to ask your followers to submit real-time videos on what they think about a particular ballot initiative or issue area. Flipgrid is a great way to crowdsource video content. 
Warchest – Warchest is a budgeting solution that stores all of your expenses and contributions together in one place. Warchest allows collaboration and also provides read-only accounts, so you can share your budget with others without putting too many chefs in the kitchen. 
We're always looking for ways to update and expand our tools list selection. If there's a campaign management tool you think we should add, reach out to us! We're always excited to hear our readers' thoughts and feedback.